Valentine's Day is all about showing your loved ones how much you care, and what better way to do that than with a homemade gift straight from your kitchen? Making sugar scrubs is fun, easy, and the perfect opportunity to get creative! In this post, we are going to provide 4 fun valentine inspired sugar scrub recipes that can easily be created with ingredients around the kitchen, perfect for a unique Valentine's Day gift or to simply pamper yourself!
This post may contain affiliate links. That means that if you click on a link and purchase something I recommend, I will receive a small commission at no extra cost to you. As an Amazon Associate, I earn from qualifying purchases. This helps keep my website up and running and is very appreciated. Thank you for your support! You can read my full disclosure policy here.
In This Post
I used to spend a fortune on body scrubs and other beauty products but then I learnt you can make them easily at home for a fraction of the cost! Not only that, homemade body scrubs don't contain any of the nasty ingredients that some store brought products do!
Many popular store-bought body scrubs include harsh chemicals that can leave your skin irritated, dry and stripped of its natural oils. They may also contain thousands of tiny microbeads that are harmful to the environment and local wildlife!
So do yourself a favour and do your bit for the environment and start making your own body scrubs instead! I promise you won't go back!
So with that in mind, today I'm gonna share with you 4 of my favourite sugar scrubs that will leave you will beautiful soft silky skin, they are also perfect to give as cute Valentine's Day gifts!
I have included some free downloadable sugar scrub labels to use if you wish. You'll find them at the bottom of the post.
Benefits Of Using A Sugar Scrub
Sugar scrubs are an effective yet gentle way to exfoliate the skin while leaving it moisturized and nourished. They remove dead skin cells, help cleanse and unclog your pores, and reduce inflammation, all of which can lead to healthier, glowing skin. Plus, unlike some other exfoliants that can be harsh on the skin, sugar scrubs are safe for even the most sensitive complexions and won't strip away essential oils.
You will also find that skin care products will work much better on exfoliated skin as pores are unclogged and able to retain more moisture. Even your fake tan will look much better!
Materials Needed To make Sugar Scrubs:
Sugar – For most body scrubs, raw, granulated or brown sugar will do perfectly.
A Carrier oil – A carrier oil is a natural oil that is used to dilute essential oils to make them safer to be applied to the skin. Most carrier oils are unscented or lightly scented and don't interfere with an essential oil's therapeutic properties. The best types of carrier oil to use in homemade sugar scrubs are coconut oil, Jojoba oil, sweet almond oil, argan oil and olive oil.
For all my Valentine-inspired recipes I have used fractionated Coconut oil. This oil may be one of the cheapest and easily available but it's also extremely hydrating and guaranteed to leave your skin with a healthy glow!
Essential oils – Essential oils provide beautiful natural fragrances as well as have a variety of therapeutic benefits depending on which oil is used.
Vitamin E oil – Vitamin E oil is a great addition to any body scrub! Not only will it nourish and rejuvenate the skin it's also an antioxidant helping protect the carrier oil from going rancid and help prolong the shelf life!
Botanicals – Some sugar scrub recipes use botanicals such as rose petals, lavender buds, coffee grounds or lemon zest. These can help with exfoliation and double up as natural colourants.
Colourants – Although sugar scrubs are perfectly fine in their natural colour state, if preferred you can add some extra colourants such as mica powders, or specially made cosmetic grade colourants to make the colour stronger!
How To Make Sugar Scrub
These Valentine inspired sugar scrub recipes are really easy to make and will only take around 5-10 minutes of your time! So what are you waiting for, let's get cracking! This 4 step process is the same for whatever sugar scrub recipe you wish to make. For exact quantities of products used, check out Valentine's inspired recipes further below.
Step 1 – Mix the carrier oil, essential oils and vitamin E in a small jar or bowl.
Step 2 – In a separate bowl, mix the sugar, colourant and any other dry ingredients. (Botanicals or coffee grounds etc)
Step 3 – Pour the oil mixture into the sugar mixture and combine.
Step 4 – Transfer the sugar scrub into glass jars or any other air-tight container and store until ready to use.
Valentine Inspired Sugar Scrub Recipes:
Rose Sugar Scrub:
This luxurious rose-scented body scrub is a great skin exfoliator, guaranteed to leave you with smooth silky soft skin! The sweet-smelling floral scent also makes it the perfect homemade Valentine's Day gift!
Rose essential oil is renowned for its calming and uplifting aroma and its many therapeutic properties. Rose oil supports cell and tissue regeneration which helps maintain skin elasticity and reduces the appearance of fine lines. Its skin-calming and anti-inflammatory properties can also soothe dry and itchy skin.
The beautiful scent of rose oil is also known to help create a sense of well-being and increase feelings of vitality.
To make rose-scented sugar scrub you need the following ingredients and make them as per my 4-step process above. This recipe is enough to fill one 200ml mason jar.
1 Cup granulated sugar
1/3 Cup of coconut oil
1/2 Teaspoon vitamin E oil
10 Drops of Rose essential oil
Pink colourant (optional)
1 Tablespoon rose petals (optional)
Lavender Sugar Scrub: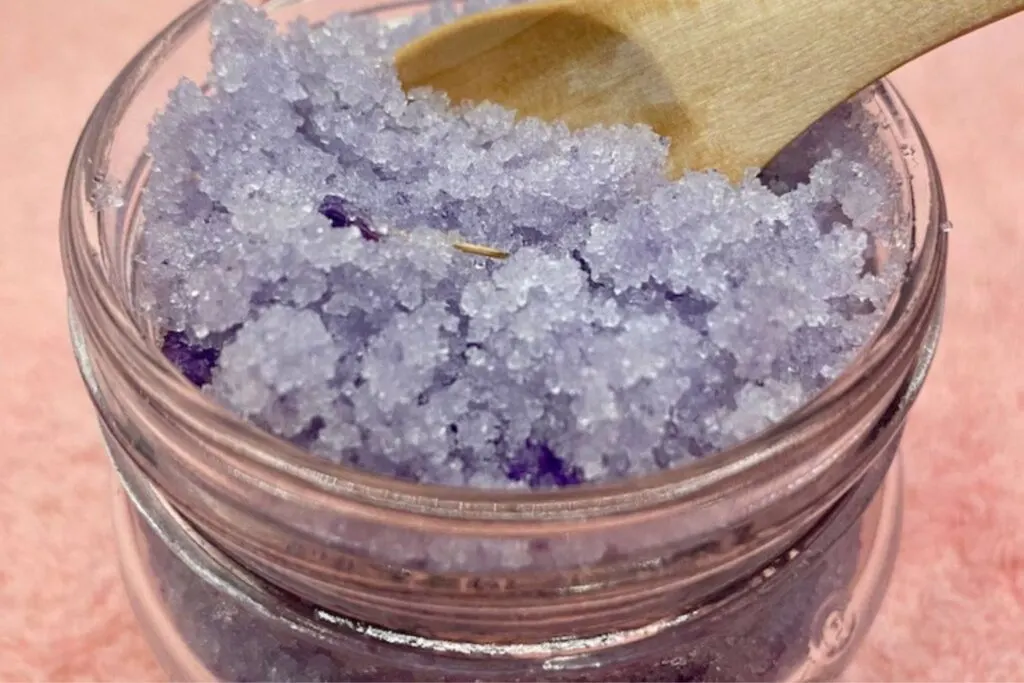 This lavender sugar scrub is one of my favourites, it's a great scrub to help get rid of dead skin cells as well as leave you feeling relaxed and calm.
Lavender is a versatile and popular essential oil. Its fragrance is particularly beneficial to those in need of relaxation, helps reduce stress levels and promotes a great night's sleep! Its rejuvenating and soothing properties also make lavender oil an effective skin treatment. It can help ease acne, eczema, rosacea and psoriasis as well as help reduce scaring!
To make lavender-scented sugar scrub you need the following ingredients and make them as per my 4-step process above. This recipe is enough to fill one 200ml mason jar.
1 Cup granulated sugar
1/3 Cup of coconut oil
1/2 Teaspoon vitamin E oil
10 Drops of Lavender essential oil
Lilac colourant (optional)
1 Tablespoon lavender buds (optional)
Ylang-ylang Brown Sugar Scrub:
A ylang-ylang sugar scrub may not be the first essential oil that comes to mind when making sugar scrubs but it's a perfect valentines scent!
With its exotic, highly floral aroma, ylang-ylang has an uplifting and arousing aroma which can also ease feelings of anxiety. This oil is a popular aphrodisiac, in fact, in some places, it's traditional to scatter ylang-ylang petals on the bed of newlyweds!
Ylang-ylang essential oil also has some great skin-nourishing properties, it can help balance the secretion of sebum, thus reducing its production, making it an ideal skin cleanser. Its stimulating effect can also improve skin structure and appearance making it a particularly good choice for older more mature skin.
To make ylang-ylang scented sugar scrub you need the following ingredients and make them as per my 4-step process above. This recipe is enough to fill one 200ml mason jar.
1/2 Cup granulated sugar
1/2 Brown sugar
1/3 Cup of coconut oil
1/2 Teaspoon vitamin E oil
1 Teaspoon real vanilla extract
Strawberry & Vanilla Sugar Scrub:
This strawberry & vanilla sugar scrub is a lovely fun fruity delight! It uses strawberry fragrance oil rather than essential oil as it's not available as an essential oil. Just like most other berry fruits they contain no essential oil that can be extracted. Although you will find many suppliers selling strawberry oil as an essential oil, it will most probably be manufactured in a lab similar to fragrance oils.
If you're not happy to use fragrance oils then just substitute the strawberry oil or keep it simple and stick with just the vanilla, it will still smell amazing!
Vanilla is well known as a flavouring for desserts and other baked goods, however, its soothing and softening properties can also help repair rough or damaged skin. It's also rich in antioxidants that can help protect the skin from environmental pollutants and toxins.
To make strawberry & vanilla scented sugar scrub you need the following ingredients and make them as per my 4-step process above. This recipe is enough to fill one 200ml mason jar.
1 Cup granulated sugar
1/3 Cup of coconut oil
1/2 Teaspoon vitamin E oil
10 Drops of strawberry oil
5 Drops of vanilla essential oil
Pink colourant
1 Tablespoon heart sprinkles
How To Use A Sugar Scrub
You can use these homemade body scrubs in a variety of ways. Use them in the bath, the shower, as a hand or foot scrub, they even make excellent lip scrubs! However, I don't recommend using homemade sugar scrubs on the face as the sugar is far too harsh and could leave you with irritated skin.
Whichever way you wish to use them, start with warm water then massage the sugar scrub into the skin with soft circular movements, then rinse off again with warm water and pat dry to reveal beautiful soft silky skin!
Be careful – These homemade body scrubs can make the bath surface very slippery! A bath or shower mat will come in handy!
Things To Note:
Be gentle and don't use it on broken or irritated skin.
Always use a spoon to remove the sugar scrub from the jar. This will prevent water from getting into the mixture and spoil the sugar scrub.
Don't overuse sugar scrub as over-exfoliating can damage the skin or cause irritation. However, these DIY sugar scrubs are safe to use 2-3 times a week.
How To Store Sugar Scrub
Homemade sugar scrub should be stored in airtight containers and kept in a cool, dry place away from sunlight. To prevent the sugar scrub from drying out, hardening or becoming wet ensure the lid is always tightly closed.
These valentine inspired sugar scrub recipes should last between 6-12 months if stored correctly. Most of the ingredients used within these recipes have a long shelf life, however, do pay attention to best-before dates especially with essential oils as these can have a much shorter shelf life.
Gifting Sugar Scrub
These homemade sugar scrub's also made great Valentine's Day gifts. Just fill up some sealable glass jars such as these lovely glass jars from Amazon, tie them with some ribbon and add a gift tag.
If you want to use my labels you can download them for free here. You can either print them out on a card and cut them out or print them onto sticker paper and use them that way.
If you prefer to make your own gift tags I recommend using Avery Design & Print. You can design all your gift tags or labels with their free templates and software. You can then download it for free and print it on your home printer.
Please note – When gifting homemade beauty products such as these valentine inspired sugar scrubs, you should always be aware of any food or skin allergies of the recipient.
Final Thoughts
Give your skin some love this Valentine's Day with a homemade sugar scrub. All four of these recipes use only natural ingredients, so you can feel good about what you're putting on your skin. And they all come together quickly and easily, so you can make them even if you're short on time. Whether you want to treat yourself or someone else, one of these scrubs is sure to fit the bill.
Thanks so much for stopping by, I appreciate every one of you who takes the time to read and make it to the end! I have lots of exciting new content coming in the next few weeks so make sure you pop back to catch up!
If you want to focus on becoming the best, happiest version of yourself subscribe to the blog or follow me on Facebook, Twitter or Pinterest.