Looking for some festive and delicious Christmas cocktail recipes? Look no further! Here are 30 of our favourite Christmas cocktails, perfect for holiday parties or enjoying by the fire with family and friends. Cheers!
This post may contain affiliate links. That means that if you click on a link and purchase something I recommend, I will receive a small commission at no extra cost to you. As an Amazon Associate, I earn from qualifying purchases. This helps keep my website up and running and is very appreciated. Thank you for your support! You can read my full disclosure policy here.
In This Post
30 Boozy Christmas Cocktails:
1. White Christmas mojito – Whether you're keeping it low key this season or throwing a Christmas party, whipping up a round of these drinks guarantees you (and your guests) a sip that's super tasty and full of the seasonal spirit – Lulus
2. Holy jolly Christmas citrus – A delicious mix of vodka, St. Germain (elderflower liquor), and fresh squeezed winter citrus juice. All mixed together and topped with bubbly ginger beer and extra festive pomegranates. It's so simple, refreshing, cheerful, and beyond good. Serve this festive cocktail pitcher style for friends and family this Christmas – Half Baked Harvest
3. Mulled wine Christmas sangria – his festively-spiced mulled wine sangria is Christmas in a glass! With wintery flavours of citrus, blackberry, pomegranate, apple cider and cinnamon, it's an inventive twist on a Spanish cocktail party favourite – She Keeps a Lovely Home
4. The Grinch – An easy holiday cocktail to serve up at your next Christmas party. With fruity flavors like melon, lemon-lime, and cherry, this cocktail is flavorful and eye-catching – The Toasty Kitchen
5. Rudolph's tipsy spritzer – If you're looking for a festive holiday cocktail or a change of pace from the usual Cosmo look no further! This tasty cocktail features the perfect balance of flavours that goes beyond a simple mix of vodka and cranberry. This easy spritzer makes a party-perfect punch that can easily be made kid-friendly – Tidy Mom
6. Moscow reindeer – Moscow Mules made more festive and minty with fresh crushed mint leaves and candy cane make the perfect Christmas Cocktail – Freutcake
7. Winter wonderland margarita – Made with sweet and savory rosemary simple syrup and bright white coconut milk, this Winter Wonderland Margarita is your perfect sipper for the occasion. Serve with a candied rosemary sprig for a sparkly, wintry touch – Burrata and Bubbles
8. Gingerbread White Russian – Homemade ginger and cinnamon simple syrup, mixed with the classic White Russian ingredients of vodka, Kahlúa, and heavy cream. This is the perfect holiday twist on the classic White Russian cocktail, and it's a delicious holiday treat! – Half Baked Harvest
9. Mrs Claus cranberry whisky – This easy Christmas cocktail is a blend of cranberry juice, whiskey, cinnamon sticks and more! It's the perfect holiday cocktail for those nights spent watching Christmas movies with only the Christmas tree light flowing through. Those are the best nights, aren't they? – College Housewife
10. Cranberry & prosecco sparklers – A quick pomegranate and cranberry simple syrup is all that's needed for that ombre red at the bottom of the glass. After that, pour in some prosecco, garnish, and enjoy! – Aberdeen's Kitchen
11. Eggnog martini – Celebrate the holidays with this creamy, decadently rich Eggnog Martini. Just 3 ingredients & a few pinches of spice will create the perfect cocktail for the Christmas season – 2 Cookie Mamas
12. Jack Frost – Sweet, tropical and Christmas-y all at the same time. These will be a welcome addition to the Christmas party! – The Blond Cook
13. Apple & cinnamon whisky smash – Crisp apple and fresh mint laced with warm, spicy cinnamon and beautiful tones of rich rye whiskey. What does beautiful tones of rich rye whiskey taste like? Well, besides warm hugs and chilly fall day snuggles, you're sure to find out in this Apple Cinnamon Whiskey Smash – Hunger Thirst Play
14. Grapefruit & cardamon gin – Warm and woodsy, with a little prosecco sparkle and a splash of citrusy brightness, this cardamom & grapefruit gin fizz cocktail recipe is winter sunshine in a glass – The Modern Proper
15. Blueberry thyme gin – Tasty and refreshing and very simple to make! This is a perfect drink to any party started! – Aberdeen's Kitchen
16. Rum rum Rudolph – This Rum rum Rudolph cocktail features rum, ruby port, cranberry & a foamy egg white & nutmeg for a cheery Christmas cocktail – Craft and Cocktails
17. Hot buttered rum – Hot buttered rum cider, it's warm, bright and creamy and it goes down far too easy! Waiting on Martha
18. Blackberry fizz – Easy, homemade blackberry ginger simple syrup pairs with lime, vodka and Prosecco creating a tasty and refreshing cocktail that's perfect for brunch, parties or just any day that requires a drink a two – Modern Farmhouse Eats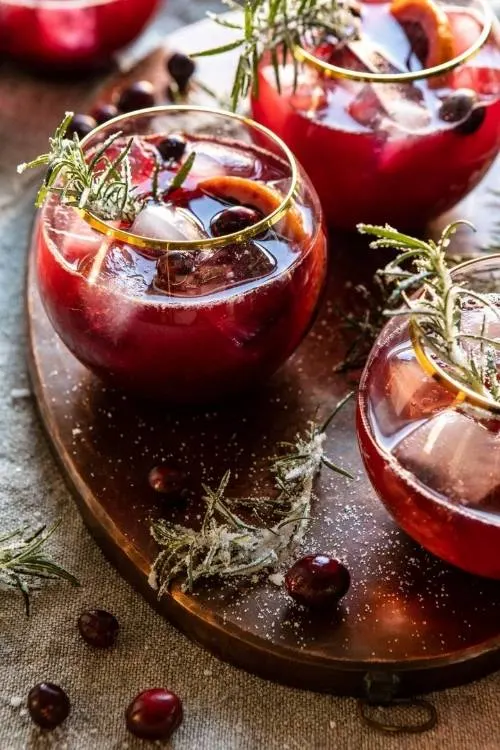 19. Cranberry bourbon sour – Homemade cranberry-orange syrup, warming bourbon, fresh citrus, and sweet candied rosemary. This drink is so easy to create, simply mix everything together for a merry cocktail that's perfectly sweetened, and so delicious! This can be made ahead of time for easy holiday entertaining – Half Baked Harvest
20. Caramel snickerdoodle – Simple cocktails are the best cocktails. This martini has all the flavour of a snickerdoodle without any of the work of baking cookies. It's the perfect substitute, really – Delish
21. The campfire – A totally tasty, beyond indulgent, ridiculously easy, campfire cocktail. It's Christmas in a glass! – Lark and Linen
22. Sugar cookie martini – A Sugar Cookie Martini is a festive Christmas cocktail that tastes like a delicious Christmas cookie with a kick! Serve these at your next holiday party – Wholefully
23. Bailey's mudslide – A delicious drink made with Baileys, vodka and Kahlua – the perfect sweet cocktail for lovers of Baileys Irish Cream. Learn how to make the classic Mudslide cocktail plus a few variations including the Frozen Mudslide! – Dupergolden Bakes
24. Rosemary & Pomegranate French 75 – This recipe is modelled after the famous French 75 with a holiday twist. It's refreshing, light, and very festive! Cheers! – Kaylchip
25. Sugar plum fairy martini – Tart cranberry juice, rich Amaretto and a touch of spice come together to make your new favorite Christmas cocktail. This Nutcracker-themed martini is a sure hit for your next holiday party, or it's the perfect relaxing sipper for an evening in front of the fireplace – Burrata and Bubbles
26. Silent night cocktail – his sake, St. Germain and spiced black currant juice cocktail makes a perfect winter punch for your non-traditional Christmas parties and elegantly different winter affairs. Let's stray from the red and green into the black, frosty winter night – She Keeps a Lovely Home
27. Bourbon pecan pie – I like it over ice, but you could definitely make this Bourbon Pecan Pie Cocktail into a Bourbon Pecan Pie Martini by shaking it over ice and serving it up instead of making it in the glass on the rocks – Basil and Bubbly
28. Winter Aperol spritz – This Cranberry Aperol Spritz is perfect for fall or winter. With a hint of cranberries, bubbly prosecco and the delicious flavor of aperol, now spritzes aren't just for the summer. They're perfect for the holidays too! – Plantings & Pairings
29. Winter sangria – Eat, drink & be merry with TWO festive winter sangria recipes. Full of seasonal fruit, holiday flavours… and wine of course – Fraiche Living
30. Poinsettia cocktail – An easy, festive Champagne Christmas Cocktail with a tart cranberry flair: The Poinsettia – Basil and Bubbly
Final Thoughts
With all of these recipes to choose from, you're sure to find the perfect drink for your Christmas party. Whether you want something classic or festive, we've got you covered. So gather your friends and family around and get ready to celebrate with some delicious cocktails!
Read more:
If you want to focus on becoming the best, happiest version of yourself subscribe to the blog or follow me on Facebook, Twitter or Pinterest.