Who doesn't love DIY gifts? Adding a personal touch to your gift-giving can really show someone how much you care, and homemade soaps are the perfect way to do just that. Plus, with Valentine's Day just around the corner, these soft rose scented soap bars will be an especially great present for your special someone.
This post may contain affiliate links. That means that if you click on a link and purchase something I recommend, I will receive a small commission at no extra cost to you. As an Amazon Associate, I earn from qualifying purchases. This helps keep my website up and running and is very appreciated. Thank you for your support! You can read my full disclosure policy here.
In This Post
These rose scented DIY soap bars are really easy to make and are perfect DIY gifts for loved ones or friends this Valentine's Day.
Most of the ingredients used to make these rose-scented soap bars can easily be found online. As an Amazon Prime member, I tend to take advantage of my free next-day delivery on all orders which makes Amazon my store of choice. For those who usually use Amazon, I have included text links to my preferred options.
400g Melt & pour soap – I use this fabulous Shea butter soap found on Amazon.
Soap colourant – You can use whichever colours you wish but for mine, I have used rose coloured liquid soap colourant.
Rose Essential oil – Or your preferred fragrance if you wish.
Silicone moulds – I have used a variety of heart-shaped moulds for these rose-scented DIY soap bars.
Small stick or spatula
Other useful tools to make peppermint swirl soap bars:
Double boiler or equivalent. I use a heatproof plastic jug placed in a saucepan of water. You can also use a microwavable dish and melt the soap in the microwave if you prefer.
Rubbing alcohol helps the soap stick together and eliminate bubbles.
Sharp knife to cut up the soap block.
How To Make Rose Scented Soap Bars:
This recipe and instructions below are enough to make around 6 rose-scented soap bars depending on the size of the moulds used.
Step 1 – Start by cutting up the soap into smaller chunks and then split it into 2 x 200g batches.
Step 2 – Carefully melt both batches either using the double boiler technique or by heating in a microwave. If using a microwave make sure you only heat in short 30-second bursts and stir between each interval.
Step 3 – Once both batches have melted add the colourant and fragrance to the first batch and just the fragrance to the other.
Step 4 – You should now have two different colour batches, one white and one pink. You can now fill up the moulds as you wish. Once poured spray with the rubbing alcohol to get rid of any bubbles on the surface of the soap.
You can either, pour a single colour into each mould or try layering the colours or making a marbling effect.
For a layered effect – Pour the first layer of soap into the moulds and then let cool for around 30 minutes, spray with rubbing alcohol and then slowly pour the next layer.
For a marbling effect – Just pour the two colours simultaneously into the moulds. Then with a small stick mix the colours as desired. Make sure to work fast, as the soap will start to harden quite quickly once poured into the moulds.
Tip: If the soap starts to harden again just pop it in the microwave for a few seconds
Step 5 – Once filled, spray with rubbing alcohol and leave to set for a couple of hours. Once hardened, gently ease the soap out of the moulds and the soap is ready to use.
How To Store Homemade Soap
Melt-and-pour soap contains glycerin which acts as a great moisturiser for the skin, however, if not stored correctly it can start to sweat. The best way to store melt and pour soap is to wrap it immediately after de-moulding in cling film and store it in a cool, dry place until ready to use.
Giving Homemade Soap As Gifts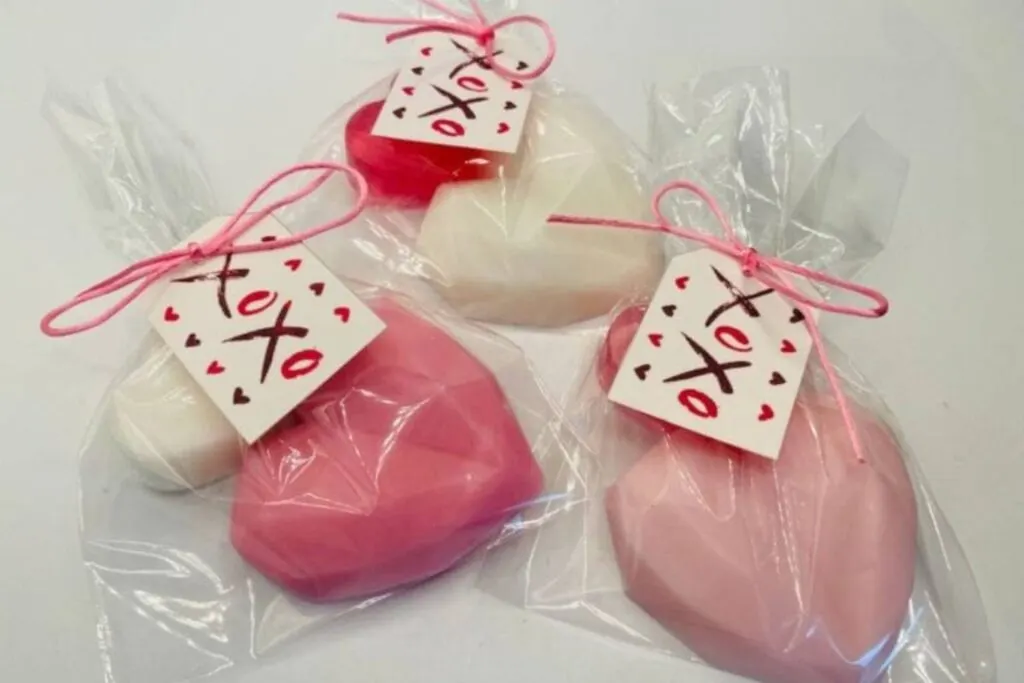 These homemade rose-scented soap bars also make great DIY gifts. Just wrap it in a clear plastic bag and tie it with some fancy ribbon and add a gift tag. I used these lovely free downloadable gift tags from Skip To My Lou!
If you prefer to make your own gift tags I recommend using Avery Design & Print. You can design all your gift tags or labels with their free templates and software. You can then download it for free and print it on your home printer.
Final Thoughts
Scented soaps make a great Valentine's Day gift for that special someone, and these rose scented soap bars are sure to please. They're easy to make, and you can customize them with different colours and fragrances. So why not give it a try? You may just fall in love with making your own soap!
Thanks so much for stopping by, I appreciate every one of you who takes the time to read and make it to the end! I have lots of exciting new content coming in the next few weeks so make sure you pop back to catch up!
If you want to focus on becoming the best, happiest version of yourself subscribe to the blog or follow me on Facebook, Twitter or Pinterest.