Grocery costs can be a major drain on your finances, but there's plenty of ways to save money on groceries. In this post, we'll share 20 tips that will help you cut down on your grocery bill. Whether you're looking to save money on your weekly grocery shop or want to cut costs for a special occasion, these tips are sure to help you out!
This post may contain affiliate links. That means that if you click on a link and purchase something I recommend, I will receive a small commission at no extra cost to you. As an Amazon Associate, I earn from qualifying purchases. This helps keep my website up and running and is very appreciated. Thank you for your support! You can read my full disclosure policy here.
In This Post
How Much Do People Spend On Groceries Each Month?
For many people, the cost of groceries is one of the largest monthly expenses. According to NimbleFins, analysis of data from the Office of National Statistics shows the average UK household now spends around £3601 a year on food, that's a whopping £300 a month.
However with the current cost of living crisis, these costs are set to rise dramatically in the coming months! Of course, this figure varies widely depending on factors such as the size of the household, dietary preferences, and whether or not you eat out often.
For those on a tight budget, finding ways to save on groceries can be a real challenge. However, there are a few simple tips that can help you trim down your bill.
Read more: 18 Simple tip to save money and boost your budget!
20 Simple Ways To Save Money On Groceries: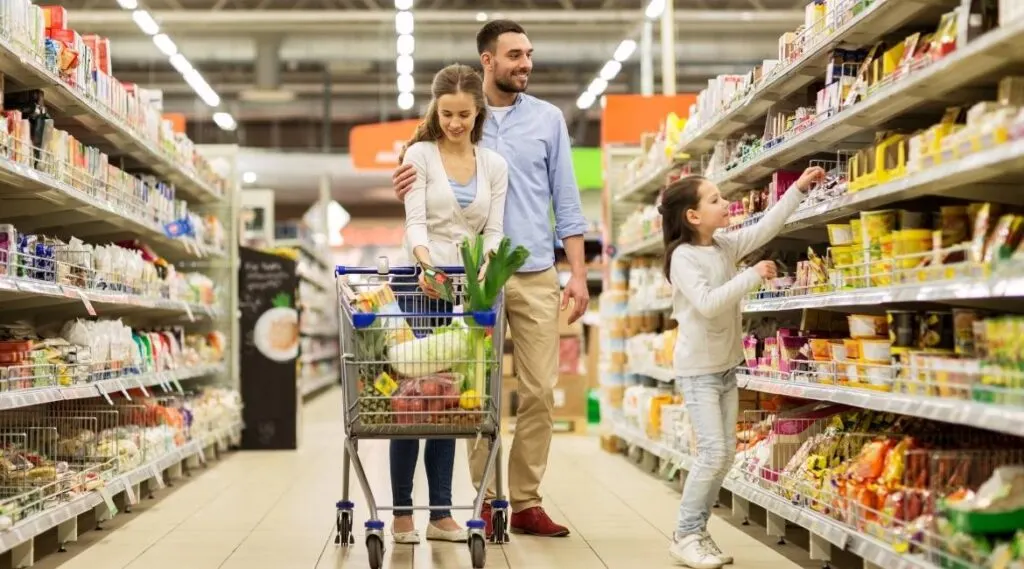 1. Helpful Shopping Apps:
If you're looking to save money on groceries, shopping apps can be a big help. By allowing you to compare prices from different stores and find coupons and deals, shopping apps can help you make sure you're getting the best possible price on your groceries.
They can also help you keep track of what you have in your pantry and fridge, so you don't end up buying things you already have. And if you're short on time, shopping apps can also help you plan your shopping trip so you can get in and out of the store quickly. So if you're looking to save some money on your grocery bill, be sure to check out some apps.
Some of the best-rated grocery apps and websites include:
Flip – This essential app brings you the latest weekly ads, deals, and coupons, from more than 2000 of your favourite stores. (USA)
Coupon.com – Wherever you shop, use the cashback offers to earn real money—just get itemised receipts or link your loyalty cards. (USA)
Latest Deals – Find the cheapest groceries, save money on your shopping and see the best prices. (UK)
Too Good To Go – Every day, delicious, fresh food goes to waste at cafes, restaurants, hotels, shops and manufacturers, the Too Good To Go app lets customers buy and collect Magic Bags of this food, at a great price, directly from businesses.
2. Shop Online
One of my favourite ways of saving money on grocery shopping is to shop online, here's why:
For starters, when you shop online, you can take advantage of coupons and promo codes that you wouldn't be able to use if you were shopping in-store. Online stores often offer discounts that brick-and-mortar stores simply can't match. Furthermore, many online grocers offer free shipping on orders over a certain amount, meaning you save on petrol as well..
So next time you need to stock up on groceries, save yourself some time and money by doing your shopping online. You may just be surprised at how much money you end up saving!
3. Grocery Store Loyalty Cards
Do you use loyalty cards when you grocery shop? If not, you could be missing out on some serious savings.
Loyalty cards are free to sign up for, and most grocery stores offer them these days. All you have to do is present your card at checkout, and you'll start accruing points that can be redeemed for discounts on future purchases.
The more you shop at a particular store, the more points you'll rack up, and the bigger the discounts will be. In addition, many stores offer loyalty card holders exclusive coupons and deals that non-holders don't have access to. So if you're not using a loyalty card when you grocery shop, you're leaving money on the table. Sign up for a loyalty card today and start reaping the rewards!
4. Try Different Grocery Stores
Many people assume that it's cheaper to shop at a big supermarket for all their groceries. But in my experience, that's not always the case.
I like to mix and match where I buy different items because it often leads to big savings. For example, I might buy meat and produce from the farmer's market, dry goods from a supermarket, and household items from a discount store.
By shopping around, you can get the best price on each item, it does however take a bit more effort than just going to one store, but it's worth it for the savings in the end. So if you're looking to save money on your food bill, I suggest giving this method a try. You might be surprised at how much you can save!
5. Don't Shop When You're Hungry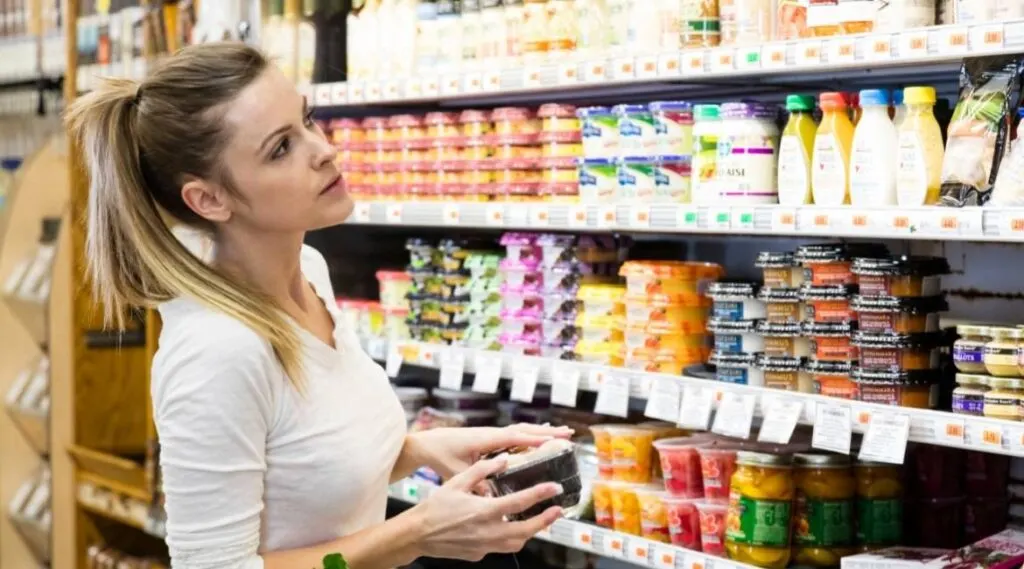 As anyone who has ever gone grocery shopping on an empty stomach can attest, it's not a good idea.
When you're hungry, your senses are heightened and you're more likely to impulse buy. You're also more likely to make poor choices, like opting for unhealthy comfort foods or buying too much food. And let's be honest, grocery shopping is not an enjoyable experience when you're hungry. You're likely to be cranky and snap at both the cashier and your fellow shoppers.
So next time you're feeling peckish, have a snack before heading to the supermarket. Your wallet (and your waistline) will thank you for it.
6. Pay In Cash
If you're looking to save money on your food shopping, one simple change you can make is to pay in cash instead of using a credit or debit card. When you use cash, you're much more likely to stick to your budget since you can physically see how much money you have to spend.
Studies have shown that people spend less when they use cash instead of plastic, so if saving money is your goal, ditching the cards and opting for cash is a smart move. Another advantage of paying in cash is that it's easier to resist impulse buys. When you're standing in front of the candy aisle with a wad of cash in your hand, it's much easier to say no than it is when you've got a credit card burning a hole in your pocket.
7. Know When To Shop
Grocery shopping can be a budget buster if you're not careful. But there are ways to save money, and one of the best is to shop on certain days and times. For example, stores often mark down meat on Mondays to get rid of products that have been sitting over the weekend. So if you plan your meals around what's on sale, you can save a lot of money.
Similarly, produce is often marked down at the end of the day, so shopping later in the afternoon can help you snag some bargains. And if you're flexible about when you shop, you can take advantage of special deals that stores offer at different times throughout the week. So doing a little planning before you hit the grocery store can help you stay within your budget.
8. Think Before Buying In Bulk
Most people think that buying bulk is the best way to save money on food shopping. After all, you get more for your money when you buy in bulk, right? Wrong.
While it's true that you do get more bang for your buck when you buy in bulk, there are a few things you need to take into consideration before you head to the store and stock up. First, do you have enough storage space for all those bulk items? If not, they'll just end up taking up space in your home and going to waste.
Second, will you use all of the food before it goes bad? That box of cereal might be a great deal, but if you only eat cereal once a week, by the time you finish it, it will have gone stale.
And lastly, Bulk items often come with a higher price tag than their non-bulk counterparts. So before you go and buy in bulk, ask yourself if it's really worth it. You might be better off sticking to smaller amounts of food that you know you'll use.
9. Plan Meals Around Sale Items
One simple way to cut down on your food budget is to plan your meals around sale items. For example, if it's chicken on sale this week, you could make chicken stir-fry, chicken soup, or chicken fajitas. By taking advantage of sales, you can stretch your food budget and still enjoy delicious, healthy meals.
In addition, planning can help you avoid those last-minute trips to the grocery store, which can be costly. So next time you're looking to save money on groceries, remember to plan your meals around sale items. It's a simple way to slash your food budget without sacrificing taste or nutrition.
10. Start Freezing And Storing Meals Now
If you're like most people, the weekdays are a mad dash to get out the door on time, with little time left over for cooking. As a result, you may find yourself eating out more often than you'd like, which can quickly add up.
One way to save both money and time is to batch-cook meals and freeze them for later. By cooking a large batch of food at once, you can make enough to last for several meals. And by freezing the extra servings, you can enjoy a home-cooked meal any night of the week without having to start from scratch.
Not only will this save you money, but it will also give you the peace of mind of knowing that there's always a healthy meal waiting in the freezer.
Read more: 70 Meal prep and batch cooking recipes
11. Make A List And Stick To It
It's happened to all of us. We head to the store without a list, and before we know it, we've spent twice as much as we intended.
Even if we stick to essentials, the cost can quickly add up. That's why making a shopping list is essential for anyone who wants to save money on groceries. By taking the time to plan out what we need before we go to the store, we can avoid impulse buys and stick to our budget.
In addition, making a list helps us to remember everything we need, so we don't have to make multiple trips. Even if it takes a few extra minutes to make a list before you go shopping, it can save you money in the long run.
12. Meal Plan!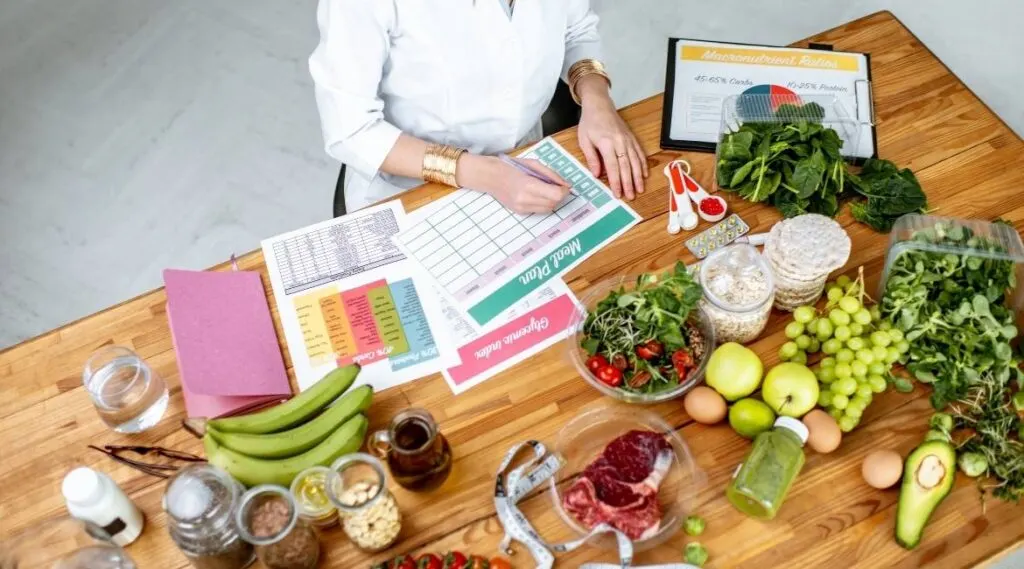 If you're like most people, the idea of meal planning probably sounds like a lot of work. In addition to grocery shopping and cooking, you now have to sit down and figure out what you're going to eat for the week. But trust me, the effort is worth it. Meal planning can save you both time and money.
By taking some time to plan out your meals, you can avoid those last-minute trips to the grocery store where you end up spending way more than you need to. You can also make use of leftovers and pantry staples, which can help cut down on your costs. And if you're meal planning for a family, it can be a great way to get everyone involved in the kitchen and save money on eating out.
So if you're looking to save some cash, meal planning is definitely worth your time.
Read more : A beginners guide to meal planning
13. Stock Up On Staples
One way to save money on your grocery budget is to stock up on essentials when they are on sale. This could include items like grains, beans, and pasta, which can be stored for long periods and used in a variety of recipes.
By stocking up when prices are low, you can save a significant amount of money over time. In addition, buying in bulk can also help you save money on food shopping. When you buy larger quantities, you often receive a discount. This could allow you to better stretch your budget and still have enough food to feed your family.
Just be careful you only stock up on ideas you know you will use otherwise you could end up wasting money!
14. Ignore Eye-Level Items
Have you ever wondered why supermarkets place certain items at eye level?
The answer is simple: they want you to buy them. Studies have shown that we are more likely to purchase items that are within our line of sight, regardless of whether we need them.
So, the next time you're grocery shopping, try to resist the temptation to reach for items that are staring you in the face. Instead, take a look around and see if there's anything else that you need. Chances are, you'll save both time and money.
15. Avoid Impulse Purchases
One of the best ways to save money on your food budget is to avoid impulse buys. We've all been there, you're at the grocery store, you see something that looks delicious, and before you know it, it's in your cart. But here's the thing, those impulse buys can add up.
If you're trying to stick to a budget, it's important to be mindful of every purchase you make. That doesn't mean you can never treat yourself, but it does mean being choosy about when and how you spend your money.
When it comes to food, it's often better to stick with the basics. That way, you'll have more money to spend on things that truly matter to you. So next time you're at the store, resist the temptation to splurge on an item that's not necessary. Your wallet (and your waistline) will thank you for it!
Read more: 24 Things to stop buying to save money fast!
16. Buy Fresh
When it comes to groceries, many people assume that it is cheaper to buy packaged and processed foods. However, this is often not the case. Not only are fresh foods more nutritious, but they can also save you money in the long run.
Fresh fruits and vegetables are typically less expensive than their packaged counterparts, and they also have a longer shelf life. This means that you will waste less food and save money on your grocery bill. In addition, buying fresh foods helps to support local farmers and businesses.
17. Consider A Meatless Meal
If you're like most people, you probably think of meat as the main event of your meals. After all, it's packed with protein and other nutrients that are essential to our health. However, meat is also one of the most expensive ingredients in our diets.
So, if you're looking to save money, you may want to consider having meatless meals occasionally. Meatless meals can be just as delicious and nutritious as those that contain meat, and they'll save you a lot of money in the process.
So next time you're planning your weekly menu, don't forget to include a few meatless options! Your wallet will thank you.
18. Pay Attention To The Expiration Date
One easy way to save money on your food bill is to simply check the expiration dates on the food you're buying. I know, it sounds too simple to be true. But trust me, it works!
Checking expiration dates can help you avoid wasted food, and that means more money in your pocket. Take a moment to check the expiration dates on the food you're buying. If an item is about to expire, see if there's a similar item with a longer expiration date that you can buy instead.
You may not think that checking expiration dates will make much of a difference, but over time, it can add up! So next time you're at the store, take a few extra minutes to check those expiration dates. Your wallet will thank you!
19. Shop Seasonal Produce
One of the easiest ways to save money on your food bill is to buy seasonal produce.
Not only is seasonal produce typically cheaper than out-of-season produce, but it also tastes better. After all, nothing beats a ripe, juicy peach that's been picked at the peak of ripeness. And when you buy seasonal produce, you don't have to worry about it going bad before you can eat it.
Seasonal produce is also more likely to be locally grown, which means it hasn't been shipped halfway around the world. So not only is it better for your wallet, it's better for the environment. Win-win!
20. Use Store Brands Or Generic Brands Over Name-Brand Items
Why spend more on name-brand items when store or generic brands are just as good? In most cases, the ingredients are the same. The only difference is the packaging and the price.
By switching to store brands, you can easily save money on your grocery bill. A recent study found that shoppers could save an average of £30 per month by opting for the store brand over the named brand. That adds up to an extra £360 per year!
So next time you're at the store, be sure to check out the stores own brands. You might be surprised at how much money you can save.
Final Thoughts:
So there you have it, 22 ways to save money on groceries. Some of these tips may be more applicable to your situation than others, but give them all a try and see which ones work best for you. And remember, even if you can only save £10 or £20 each week by implementing some of these strategies, that adds up over time!
Read more: How to create a budget, a beginners guide
Thanks so much for stopping by, I really appreciate each and everyone of you who takes the time to read and make it all the way to the end! I have lots of exciting new content coming in the next few weeks so make sure you pop back to catch up!
If you want to focus on becoming the best, happiest version of yourself subscribe to the blog or follow me on Facebook, Twitter and Pinterest.
Thanks again for reading,