Are you trying to get more organised in the kitchen? Trying to eat healthier or wanting to reduce waste and save money. If so, meal planning could be for you.
Meal planning may sound complicated but it isn't. The most important thing is to take the time to plan properly so that you have a meal plan that you can stick to and that your family will enjoy eating. If you have never planned your meals ahead of time this easy 8-step guide on how to create a meal plan is for you.
This post may contain affiliate links. That means that if you click on a link and purchase something I recommend, I will receive a small commission at no extra cost to you. As an Amazon Associate, I earn from qualifying purchases. This helps keep my website up and running and is very appreciated. Thank you for your support! You can read my full disclosure policy here.
In This Post
What Is meal Planning?
Meal planning is the process of creating a menu for a week or more in advance. It can save you money by helping you to buy only the ingredients you need and reducing food waste.
Meal planning can also be helpful if you have special dietary needs or are trying to reach health and fitness goals. For example, you may want to plan ahead if you know you will be too busy to cook during the week. Or, you may want to plan meals that are low in calories or that use particular ingredients if you are following a specialised diet.
Whatever your reasons for meal planning, it can be a helpful tool for saving time and money, reducing food waste, and achieving your dietary goals.
Read more: 20 Ways to save money on your grocery bill
Why Meal Plan?
As I've already mentioned meal planning can reduce waste and save money as well as helping you stick to your health and fitness goals. Here's how:
Saving money – The number of times I've gone food shopping and bought all kinds of food that I think I'm going to eat. The fridge ends up full to the brim only to be full of food that has gone off or past its use-by date a week or so later. The amount of food wasted this way is astounding. A study in the UK revealed that the average UK household wasted £355.68 worth of food every year!
By creating a meal plan you can create a shopping list that ensures you only buy what you are likely to eat, both saving you money and reducing waste.
Saving time – We have all been in this all too common situation. Getting home after a stressful day at work and having to decide what to cook for dinner. You check the cupboards and the freezer and you just can't decide or you think of something and then realise you are missing some ingredients. How frustrated do you feel?
By planning meals in advance, you can simply just get home and already know what to cook saving you time and energy trying to sort something out.
Save your sanity – Trying to figure out what to cook each night can become extremely stressful. Especially so, if you have a large family or picky eaters to keep satisfied.
Instead, you can discuss with all your family members and create a meal plan together. This way you won't be met with everyone wanting something different and having to negotiate what to cook.
Keeps you accountable – If you are trying to lose weight, and get fitter or healthier, sticking to a meal plan can help you reach your goals.
Making a meal plan that you will enjoy as well as in line with your health goals is important. This way you are more likely to stick to it and won't be tempted by unhealthy snacks or your favourite fast food outlet.
How To Create A Meal Plan: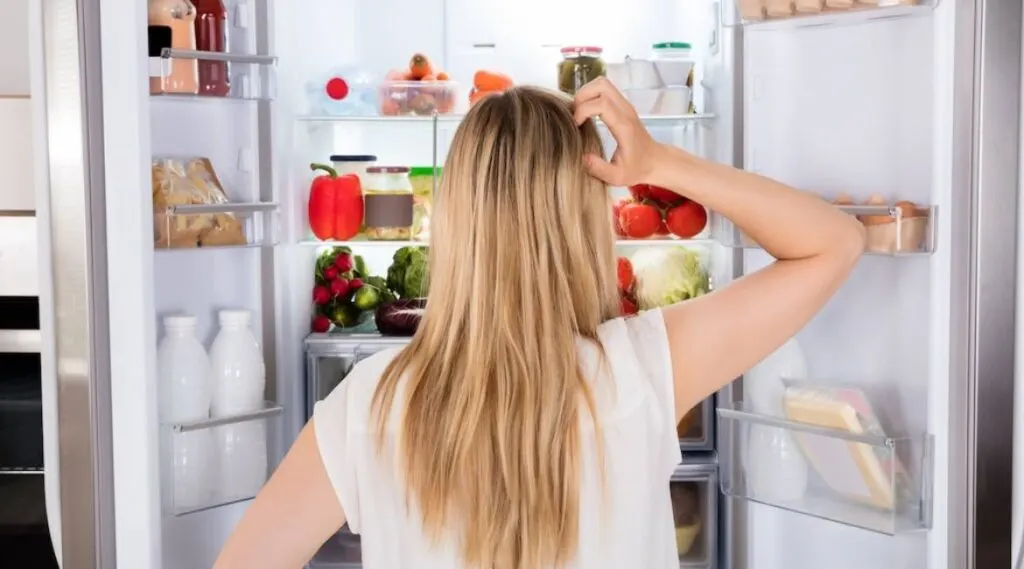 So you want to try out meal planning but don't know where to start?
A successful meal plan isn't just plucking out a few random meals onto a sheet of paper, you have to put in a little effort in the beginning for it to work.
Here are my 10 simple steps to create a great meal plan that the whole family will enjoy. If done properly, you will wonder how you ever coped without one!
1. Plan Ahead
When creating a meal plan the first step is to make sure to plan. This way you can create a meal plan that the whole family will enjoy. You might also start to enjoy the process.
2. Check Calendar
Do you have any special events coming up? Do the kids have any after-school activities? By organising your meal plan around your calendar you can add extra portions, ensure busy days have easy prep meals or skip a few meals if necessary.
For days when you need some quick meals why don't you cook in advance and freeze until needed? Soups, curries and pasta dishes are all easy meals that can be popped in the freezer. One-pot or slow cooker recipes are also great ideas for when you are short of time.
3. Dietary Requirements
Does anyone in the family have any special dietary requirements? Is there a way to incorporate these requirements into the meal plan without having to cook separate meals?
4. Budget
Do you need to stick to a budget? If so, break down your budget into weekly amounts and try and stick to it. For example, if your monthly grocery budget is £400 then try and stick to less than £100 a week. As you get better at creating meal plans you will probably find that you are spending less on groceries as the weeks go by.
Read more: How to create a budget, a beginners guide
Tip – When shopping, look out for sales and offers. Try and stock up on regular-use dry foodstuffs like pasta, rice and tinned products. Also, keep a look out for fresh meat on offer that could potentially be frozen for future use.
5. Check Stocks
Before making a meal plan check what you already have in your cupboards. Try to make use of these items before they go off or spoil. This also stops you from buying items that you already have on your shelves.
6. Research Recipes
There are all sorts of ways that you can research recipes these days. You can check your favourite cookbooks, the internet or even social media. I use Pinterest as you can search for anything. Budget recipes, batch cooking, meal plans, low-calorie and high-protein meals, the list is endless!
When picking out meals, choose those that incorporate items you already have at home and what you know the family will enjoy. Try not to pick out anything too elaborate, instead choose meals that are tasty and easy to make.
You could however have a few special meals planned for certain days of the week. How about a themed or a fakeaway night, cooking your favourite takeaway meals from scratch at home?
A few more tips on creating a perfect meal plan:
Choose meals that provide leftovers – If you plan on cooking a piece of beef on Sunday, use the leftovers for a curry on Monday. Likewise if cooking a rice dish, cook more and use the leftovers for lunch the following day.
Cook what you know – When starting, choose meals that you already know and love. As you get used to creating meal plans you can then start to incorporate more complex recipes.
Use common ingredients – Make use of common ingredients and seasonal produce. These items are usually more abundant and therefore better value for money.
Read more: 70 Meal prep and batch cooking recipes
7. Make A List
Once you have your meal plan, write down a shopping list. This way you will only buy what you need and reduce waste and save money. Try to organise your list by aisle or store, that way you will save time as well.
If you are one for normally adding all those great-looking offers into your trolly then why not shop online instead? Most UK-based retailers offer online shopping with free delivery if spending over a certain amount. This way you will only buy what you need.
8. Stick To It
You have your meal plan and you've been shopping. All that's left is to stick to the plan!
Even if you are struggling to stick to a meal plan don't give up. Think about why your current meal plan is hard to maintain. Is there something you could change next time around?
If you change a few meals now and again it's not the end of the world. At the end of the day, it's whatever works best for you and your family.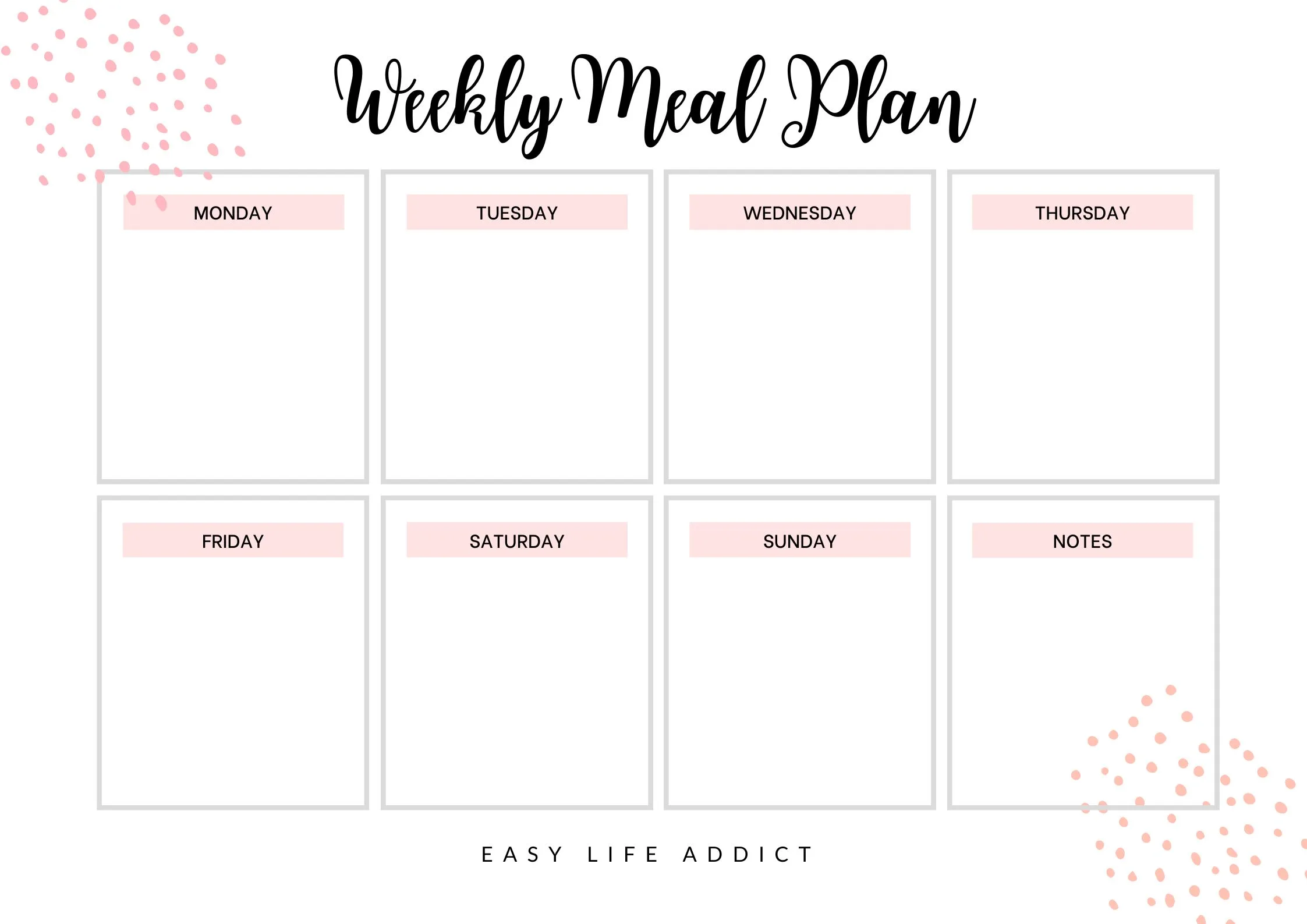 Download Portrait meal plan for free here
Download Landscape meal plan for free here
Final Thoughts
Meal planning is a great way to save money, stick to a specialised diet, and achieve fitness goals. But it also has another benefit, it can help reduce food wastage. By taking the time to plan your meals in advance, you're less likely to purchase items that you won't use or end up throwing away. So why not give meal planning a try? You may be surprised at how much of a difference it makes!
If you want to focus on becoming the best, happiest version of yourself subscribe to the blog or follow me on Facebook, Twitter and Pinterest.