Halloween is just around the corner, and that means it's time to start planning your party! If you're looking for some creepy and spooky inspirations for your Halloween feast, look no further. We've put together a list of 30 eerie and downright delicious Halloween party food ideas.
From ghostly pizzas to coffin pop tarts, these recipes are guaranteed to get your guests in the Halloween spirit! So let's get started…
This post may contain affiliate links. That means that if you click on a link and purchase something I recommend, I will receive a small commission at no extra cost to you. As an Amazon Associate, I earn from qualifying purchases. This helps keep my website up and running and is very appreciated. Thank you for your support! You can read my full disclosure policy here.
In This Post
Savoury Halloween Party Food:
1. Pizza Skulls – These cheesy Pizza Skulls are about to become your new favourite Halloween savoury recipe. These tasty pizza pockets are easy to make, completely customisable and a fun dish to serve at a Halloween party or to your kids during the holiday season – Lemon Blossoms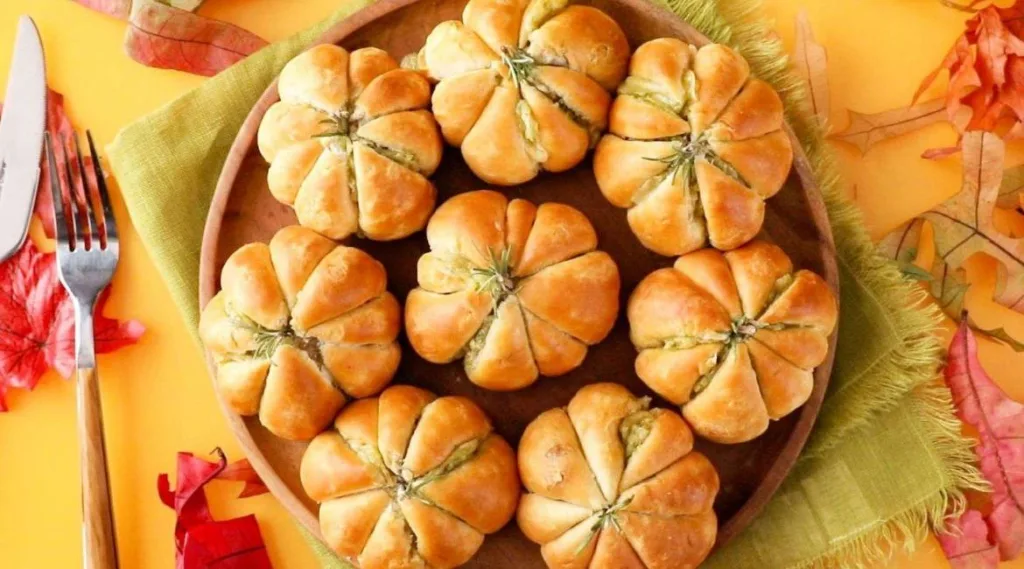 2. Pumpkin meatball biscuits – This recipe is semi-homemade. Purchased, frozen cooked meatballs are wrapped in a pack of refrigerated biscuits, along with cheese and pesto. Fresh rosemary leaves give this a sophisticated flare making it a perfect Halloween finger food for adults – Better Home & Gardens
3. Jalapeño popper mummies – Add a little heat to your Halloween Party food with these tasty Jalapeño poppers – Fast Forward Fun
4. Halloween devilled eggs – If you're looking to jazz up a regular recipe this Halloween, this one is perfect for you. These deviled eggs are delicious and a huge hit with the kids. I mean, they look like dinosaur eggs! They're super cool – Parenting Chaos
5. Coffin pop tarts – These homemade pop tarts aren't just easy and tasty, they're adorable! Make these spooky Coffin Pop Tarts as a fun treat for your kids, or bring them to a Halloween party. This is also a fun Halloween recipe for kids to make (with supervision), too! – My Crazy Good Life
6. Monster burgers – These monster burgers are fun Halloween appetizers perfect for your Halloween party. They are easy to make and full of flavor. Includes process shots and useful tips! – Happy Foods Tube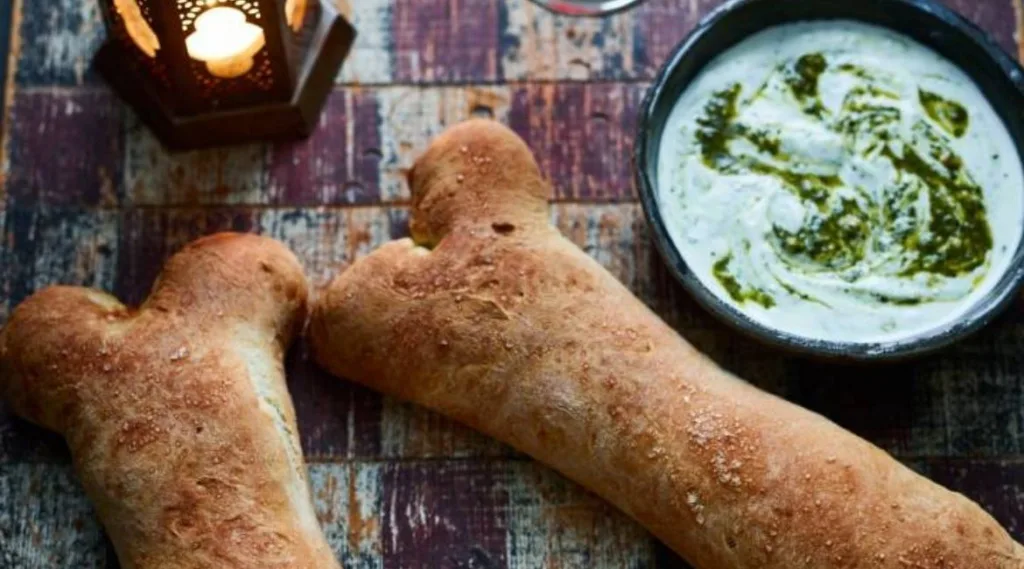 7. Cheesy bone bread – These bone shaped loaves are filled with melting mozzarella and roasted garlic to ward off any vampires that might be hanging around your Halloween feast! – Sainsbury's Magazine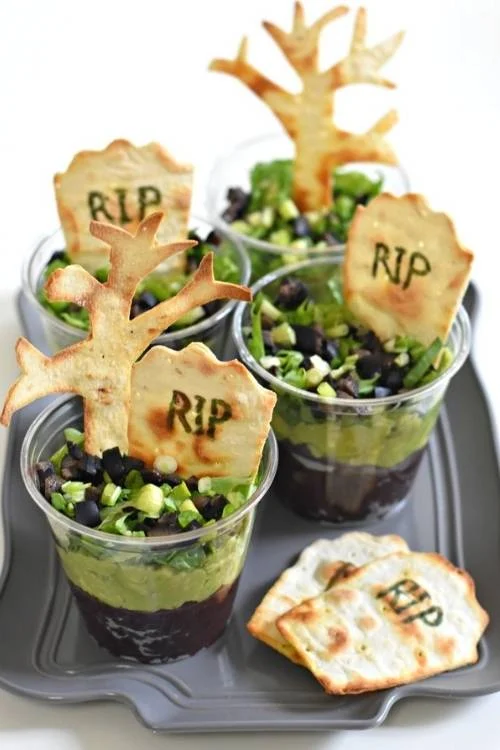 8. Graveyard taco cups – Layered with black beans, homemade guacamole, black olives and green onions, these individual cuties are topped off with edible tombstones and creepy trees. They make the creepiest Halloween appetisers – Fork and Beans
9. Monster fingers – These creepy monster fingers take a bit of work but are well worth it. Ready-made breadstick dough is shaped, tinted with spray color and then topped with an almond "fingernail" and poppyseeds – Woman's Day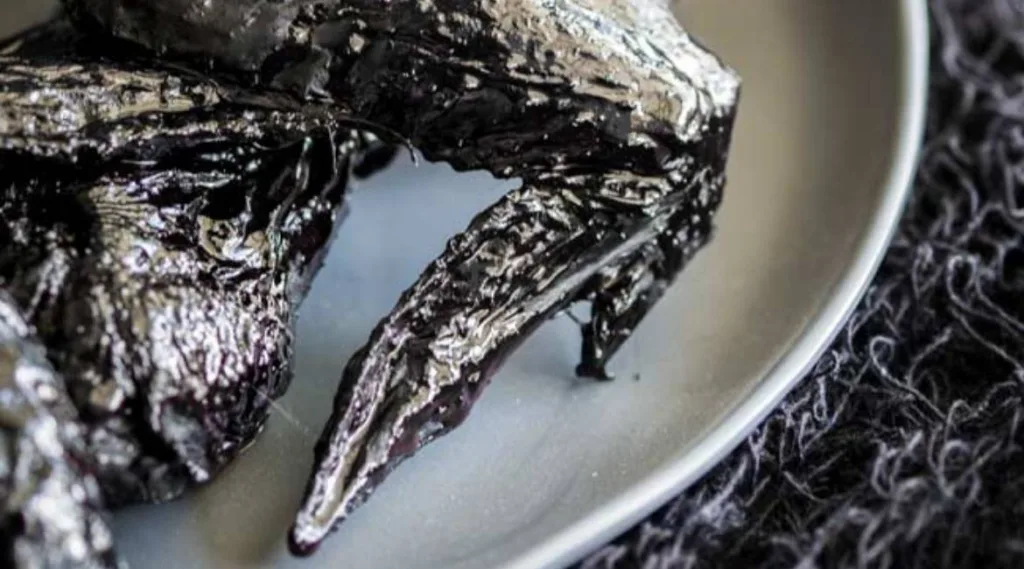 10. Sweet and sour bat wings – These sweet and sour chicken wings are baked in the oven to create a spooky fun Halloween dinner or appetiser – Sprinkles and Sprouts
Children's Halloween Party Food:
11. Snake breadsticks – These Spooky Snake Breadsticks make a perfect addition to your Halloween Party Food table. A great healthy appetiser idea to surprise the kids and grown-ups alike – Flawless Food
12 – Mummy dogs – These easy mummy dogs are a classic Halloween recipe that make a great Halloween dinner, or a fun addition to a Halloween party! – Home Made Interest
13. Mummy pizza pies – This fun mummy puff pastry pizza pies recipe is perfect for Halloween party food or to pop in a lunch box for a spooky surprise for the kids this Halloween! – East Amazings
14. Sunken potato heads – These easy Halloween snacks are gorgeously ghoulish, kids will love dunking crispy potato heads into a creepy slime dip. Simply bake the potatoes, mash together avocado, sour cream and garlic, top with chives and serve, Halloween party food doesn't get easier than this! – Tesco Food
15. Frankenstein Burritos – These Frankenstein booritos are so fun and festive. You'll use spinach tortillas that are green and decorate them with blue corn tortilla chips, olives, and more – Taste of Home
16. Bloody hotdog fingers – Freak your kids out by making bloody hot dog fingers for dinner or lunch! All you need to do is use a small knife and cut out a 'fingernail' and some knuckle marks. Heat it up in the microwave then put in a bun and squirt with ketchup to look like blood! Fun Halloween idea! – Crazy Morning
17. Frankenstein Pasta – Your Halloween dinner is here! Frankenstein Pasta is adorable to serve and even easier to make! You'll steal the show with Frank! – Super Healthy Kids
18. Jack-o-lantern Mac and cheese cups – Treat your kids to a festive Halloween dinner with these Jack-O-Lantern Mac and Cheese Cups! Before they load up on candy or head out to trick-or-treat, fill up little tummies with an easy, tasty and FUN Halloween party food! – The Seasoned Mum
19. Witches broomsticks – These Witch's Brooms are actually quite easy and fun to make. With so many sweet treats around this time of the year, It's nice to prepare a savory treat for a change. Plus, these are pretty simple and healthy snacks to enjoy – U Try
20. Edible eyeballs – If you have been looking for the perfect creepy Halloween eyeball recipe you have come to the right place! These giant edible eyeballs are delicious and gross at the same time – Squirrels of a Feather
Halloween Sweet Treats:
21. Graveyard Pudding – These individual cups are filled with cookie crumb dirt and a creamy center created with chocolate pudding. Each of them are embellished with a cookie tombstone and candy pumpkin. They would be a great after school treat or holiday party! – My Name is Snickerdoodle
22. Raw Meat Krispies – These macabre munchies may look horrifying, but they are actually just Rice Krispie squares with red food coloring. What makes them next level is the faux blood splatter and the butcher shop platter they are served on – Instructables Living
23. Bubbling witches cauldron – Halloween brownies only call for a handful of ingredients! We love making these bubbling witch's cauldron brownies for our halloween party each year! This is an easy halloween treat for kids to help with! – The First Year, Something Sweet
24. Chocolate apple slices – Delicious apple slices thick slices covered in melted chocolate, drizzled with caramel and topped with nuts – Mom Loves Baking
25. Halloween puppy chow mix – Halloween Puppy Chow Chex Mix is one of our favourite Halloween Treats. Sweet and salty and everything in between! Perfect for a Halloween party or just a Halloween snack! – Princess Pinky Girl
26. Alien cake balls – A minty fresh cake recipe molded into delicious green Alien Egg Cake Balls. Make sure to eat them before a Facehugger pops out! – Rosanna Pansino
27. Bloody guts cinnamon rolls – These spooky Bloody Gut Cinnamon Rolls are easy to make by using store bought cinnamon rolls. It makes an excellent kids Halloween treat! – Mom's Dinner
28. Poison apples – These black Poison candy/ toffee apples are the ultimate wickedly sinister Halloween treat and will make an excellent centrepiece – Simply Delicious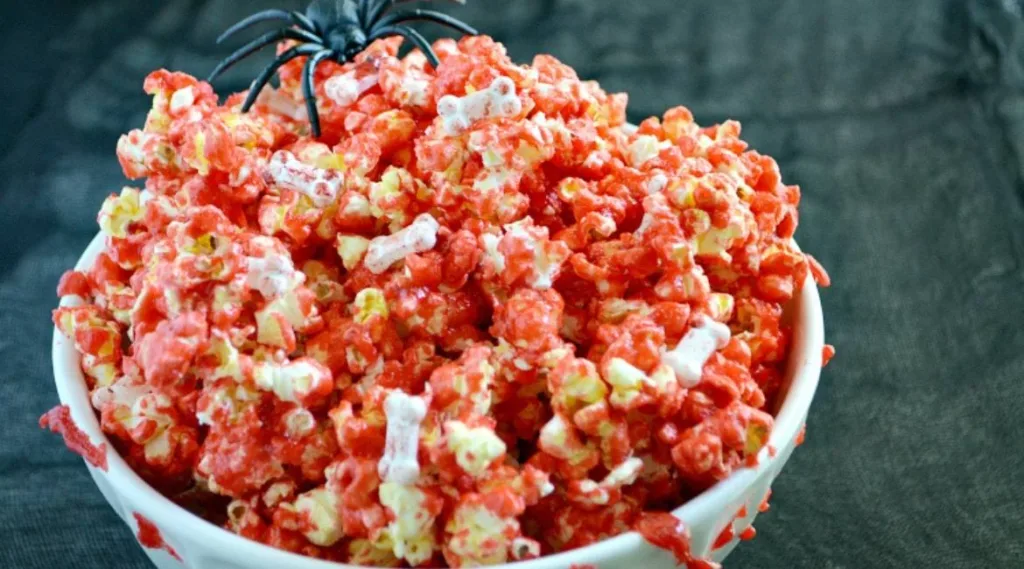 29. Bloody popcorn – This bloody popcorn mix is perfect for serving guests or as party favors. You can also enjoy this special treat any time. I found the popcorn to be absolutely delicious, if a bit sweet – Finding Zest
30. Jack Skellington Oreo pops – These tasty teats are easy to make and make a fun additions to your Halloween spread! – Big Bear's Wife
Final Thoughts
Whether you're looking for spooky, spine-tingling snacks or just something a little bit different to serve at your Halloween party this year, we hope that our list of creepy food ideas has given you some inspiration. From ghoulish green brownies to blood stained hotdogs and everything in between, there's something here to suit every taste (and every fear!).
So why not get creative in the kitchen and see what horrors you can come up with? We can't wait to hear about your culinary creations!
Read More:
If you want to focus on becoming the best, happiest version of yourself subscribe to the blog or follow me on Facebook, Twitter and Pinterest.