It's that time of year again! When the leaves start to change color and the air gets a little bit cooler, we know that Halloween is just around the corner. And what better way to get into the spirit than by sipping on some spooky cocktails?
Whether you're looking for something festive to serve at your Halloween party or just want to make a few drinks to enjoy at home, these 20 Epic Halloween Cocktails are sure to hit the spot!
This post may contain affiliate links. That means that if you click on a link and purchase something I recommend, I will receive a small commission at no extra cost to you. As an Amazon Associate, I earn from qualifying purchases. This helps keep my website up and running and is very appreciated. Thank you for your support! You can read my full disclosure policy here
In This Post
20 Epic Alcoholic Halloween Cocktails:
1. Drunk Witch – The Drunk Witch is a fruity and bubbly cocktail perfect for your next Halloween party! Its deep purple colour is spooky and festive and combined with its sweet flavour, sure to be loved by all of your guests – Shake Drink Repeat
2. Hocus Pocus Halloween Fizz – This rum-tastic Halloween cocktail is vibrant, sparkling, and hauntingly delicious! It's a simple magic potion inspired elixir that will put a tasty little spell on your tongue – Red Wine Dragons
3. Poisoned Cider Apple – Get into the Fall and spooky Halloween spirit with this poisoned apple cider cocktail, made easy with just a handful of ingredients! The optional lustre dust gives the cocktail it's mystical red and golden swirls, which make for one eerily beautiful drink! – The Chunky Chef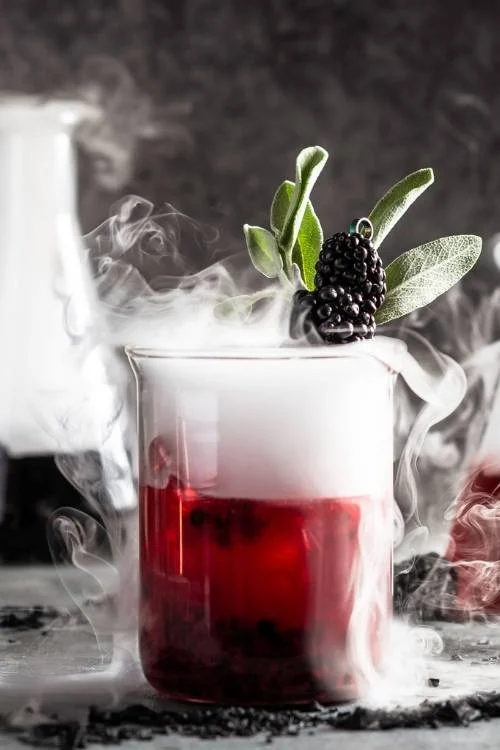 4. Smoking Blackberry Sage Margarita – This Blackberry sage margarita is perfectly spooky with it's dark red colour and smoking sage – 21 Seeds
5. Brain Haemorrhage – If your looking for a real gruesome drink this halloween then a Brain haemorrhage is as good as it gets! If you've never had the shot, it consists of Baileys, Peach Schnapps and Grenadine. The Baileys curdles as soon as it's mixed with the Grenadine, which creates a a rather unsettling look not unlike a brain – Best Day of the Week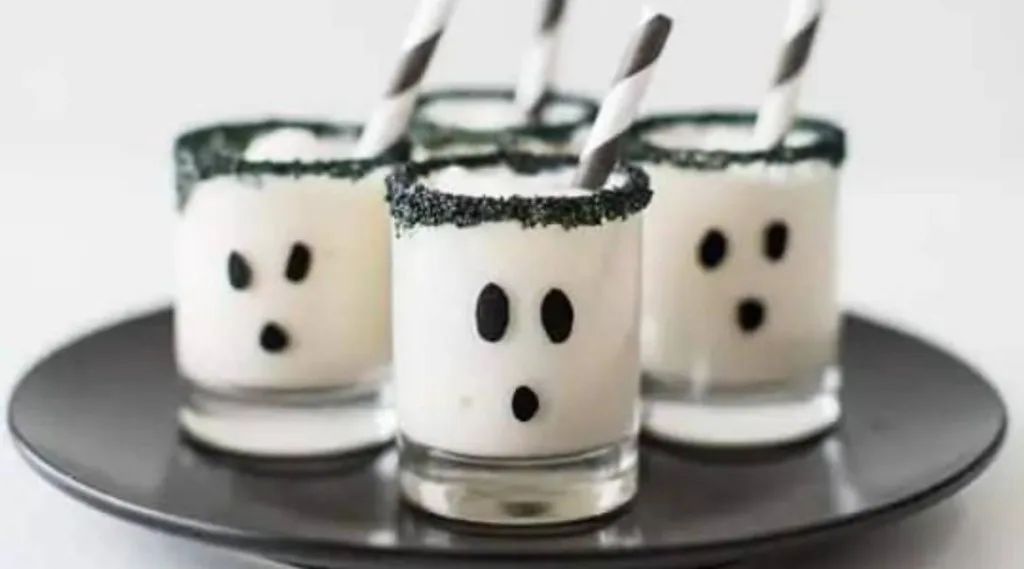 6. Ghoul's guts – A perfectly sweet and spooky Halloween Ghoul's Guts Shots recipe with a DIY Shot Glass twist. These ice cream cake Halloween shots are some of best creepy cocktails! – Sugar & Cloth
7. Halloween Moscow Mule – This Halloween Moscow Mule, otherwise known as a Blackberry Mule, is such a perfect cocktail for Halloween! The blackberries add the perfect amount of colour to make it spooky without having to worry about turning your teeth a different color, and paired with the fresh lime juice and fresh mint, it's such a refreshing cocktail with the perfect spooky Halloween twist – Bits and Bites
8. White Pumpkin – Want to keep Halloween classy? Try this elegant little vanilla, honey, pumpkin-spiced White Pumpkin Cocktail at your next cocktail party – She Keeps a Lovely Home
9. Bourbon Butter Beer – This Harry Potter inspired cocktail plays homage to this famous wizardly beverage – Gastronom
10. The Beetlejuice – The Beetlejuice cocktail is a delicious drink that was created for Halloween. The name as you might expect, comes from the movie by Tim Burton and Michael Keaton, in which a ghost named Beetlejuice terrorises the Deetzes – Cocktails with Class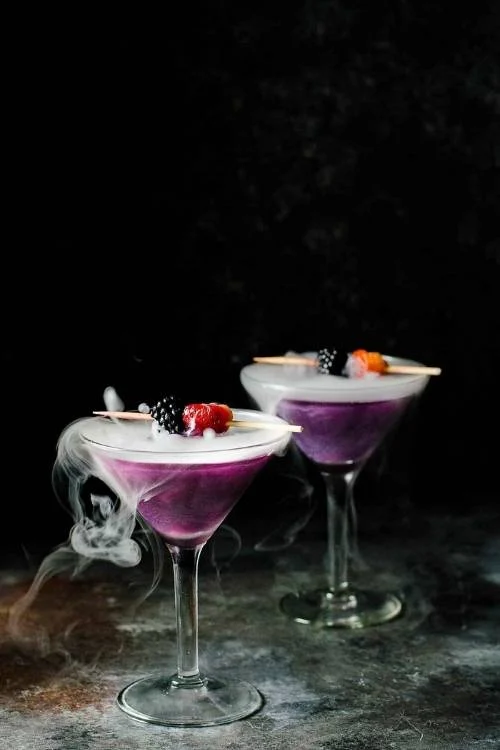 11. Witch's Heart – Tis Hallowe'en, And in this brew, The witch will stir, Good luck for you!
Are you brave enough to drink The Witch's Heart? Here's the perfect easy-to-make whimsical Halloween cocktail or for any themed party for that matter! – The Flavor Benders
12. Black Widow Venom Moonshine – Both sweet and spicy, this black widow venom moonshine is sure to be a hit when it comes to flavour, but it also has a look that screams Halloween – Crayons & Cravings
13. Purple People Matter – Prepare to be spooked by the purple people eater Halloween cocktail! Featuring a natural ingredient with magical color changing properties. Make this Halloween drink EVEN SPOOKIER with some edible fake blood around the rim of the glass – Super Golden Bakes
14. Spooky Halloween Screwdriver – A fun adult cocktail for everyone's favourite scary holiday with a mock-tail option so no one is left out of the frightening fun. Layers of grenadine, orange juice and black colored vodka – Culinary Ginger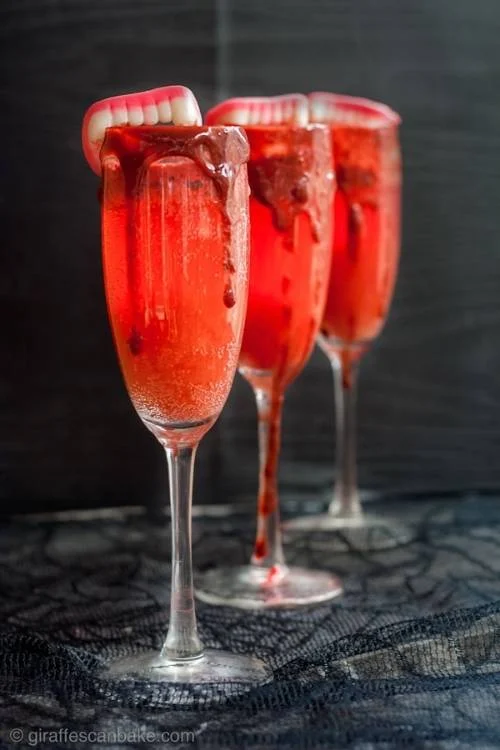 15. Bloody Bellini – Delicious "blood" is combined with bubbly Prosecco to make the perfect Halloween cocktail for vampires, and those suffering with anaemia. If you're not a vampire, you can make this gruesome looking cocktail with Raspberry Puree and Raspberry Chocolate Syrup! Perfect to serve this halloween, and totally delicious too! – A Tipsy Giraffe
16. Green Halloween Sangria – This fun colored punch is perfect for a crowd and is flavored with limoncello and apple, then topped off with some lychee eyeballs! Make it ahead of time for a Halloween cocktail that everyone will love! – Slow The Cook Down
17. Dusk Til Dawn – This is a simple cocktail, but it will not disappoint. It can also be made into a shot, it layers in small glasses too. It actually works really well as a shot because the vodka hits you first but the grenadine, which is super sweet, is last so it's like the booze part never even happened – Best Day of the Week
18. Flaming Dragon – A simple, fruity, and refreshing Halloween cocktail, this flaming dragon's blood cocktail (thyme and raspberry daiquiri) is a show-stopping drink to delight your party guests! – The Flavor Benders
19. Demon Juice – This citrus and sour apple Demon Juice Halloween Cocktail has a powerful punch that will pucker your lips and leave you begging for more. – Crayons & Cravings
20. Poison Apple Martini – Apple cider, vodka, and a little dry ice, all combined together to make the perfect easy martini for this year's Halloween party. Bonus? There's no weird food dyes or extra ingredients needed for this Halloween drink. It's fun, spooky, and completely delicious! – Half Baked Harvest
Final Thoughts
With these 20 epic Halloween cocktails, you're sure to find the perfect drink to celebrate with this year. Whether you want something spooky or sweet, we've got you covered. Be sure to try out a few of these recipes and let us know which ones are your favourites!
Read more:
If you want to focus on becoming the best, happiest version of yourself subscribe to the blog or followme on Facebook, Twitter and Pinterest.