'Tis the season for overindulging, and what better way to do it than with some seriously epic Christmas desserts? From cookies and cakes to fudge and pies, we've got 30 of the best recipes for you to try out this holiday season. So go ahead and treat yourself (and your loved ones) these sweet treats are definitely worth it!
This post may contain affiliate links. That means that if you click on a link and purchase something I recommend, I will receive a small commission at no extra cost to you. As an Amazon Associate, I earn from qualifying purchases. This helps keep my website up and running and is very appreciated. Thank you for your support! You can read my full disclosure policy here.
In This Post
30 Epic Christmas Desserts:
1. Christmas Pavlova – Few desserts look quite as Christmassy as Christmas pavlova. Pretty as a picture and delicious to boot, this festive classic is an irresistible blend of meringue, fruit and cream – Greedy Gourmet
2. Double chocolate moose trifle – You can't beat this stunningly decadent take on a traditional trifle! A homemade chocolate case is filled with white chocolate custard, sponge, fruit, jelly and nuts, what's not to love? – Better Homes & Gardens
3. No Bake Sparkling Cranberry Orange Cheesecake – This cheesecake is the perfect holiday dessert. Cranberry and orange really do make the perfect flavor combination. The smooth, creamy orange cheesecake with the sweet but tart cranberries is to die for. If you've never tried these two flavors before, it's a must! – Live Love & Sugar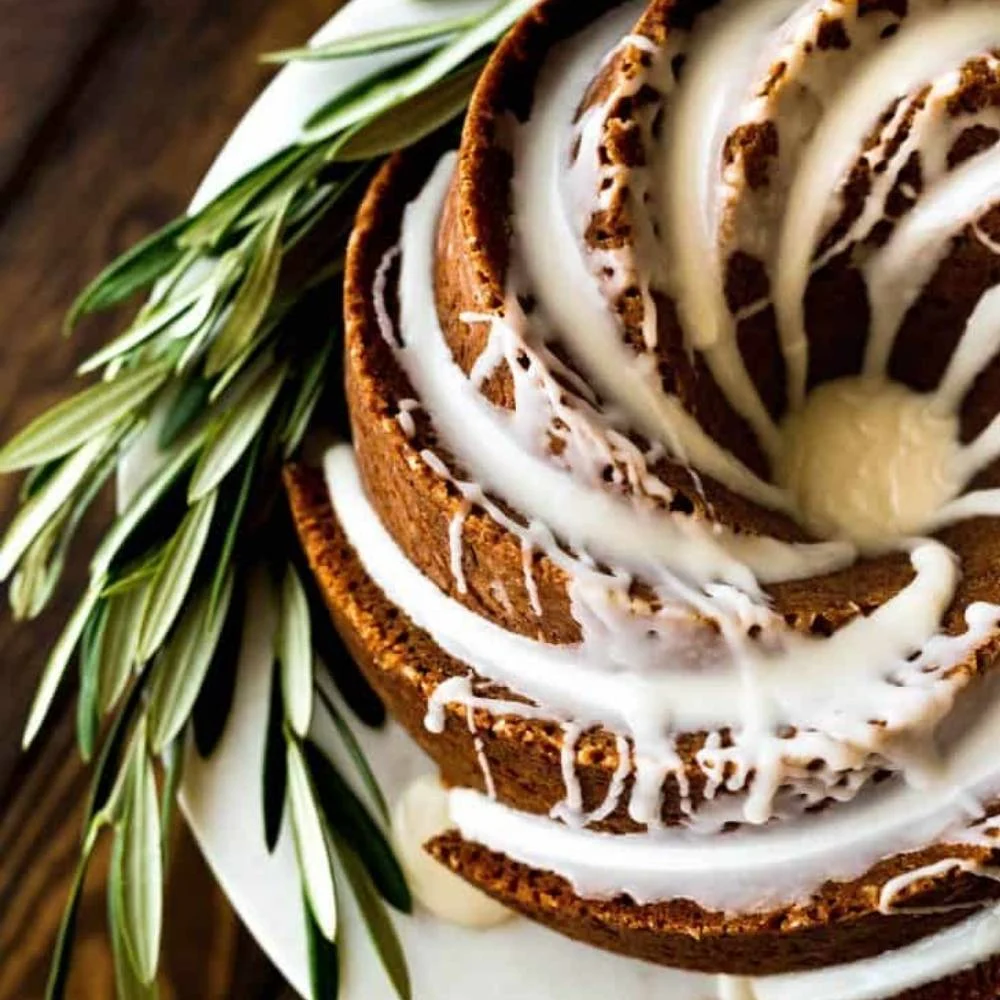 4. Gingerbread bundt cake – Ring in the holiday season with this festive Gingerbread Bundt Cake! This is a show-stopping holiday cake that you and your family will love – Salt & Baker
5. Gingered Christmas fruitcake – Moist, gingery fruitcake topped with marzipan, royal icing, sugared cranberries, rosemary and bay leaves, dried orange slices, pine cones and whole spices – Domestic Gothess
6. Christmas ice cream cake – This quick recipe for frozen Christmas ice-cream cake is loaded with fruit, berries and brandy. Make it the night before for a hassle-free Christmas spent with your friends and family – Woman's Weekly
7. Mulled wine & fruit cobbler – This fruit cobbler… oh my days! Sticky, jammy, mulled wine and spiced plums cook into the juiciest fragrant fruit pudding this side of Christmas – Salted Mint
8. Lemon & Elderflower cake – Two tier vegan lemon and elderflower cake with semi naked lemon frosting, topped with adorable chai spiced animal biscuits. The perfect cake for a special occasion to impress your friends and family – Cup Full of Kale
9. Cranberry jam & white chocolate mousse – Amazing Christmas Cheesecake to make your holiday season as delicious and magical as you imagine! This heavenly dessert is a vanilla bean cheesecake layered with an easy cranberry jam and smooth white chocolate mousse – Will Cook For Smiles
10. Vegan biscuit cake – This dairy-free, nut-free and completely vegan dessert comes together within a couple hours and requires only 6 ingredients! – Project Vegan Baking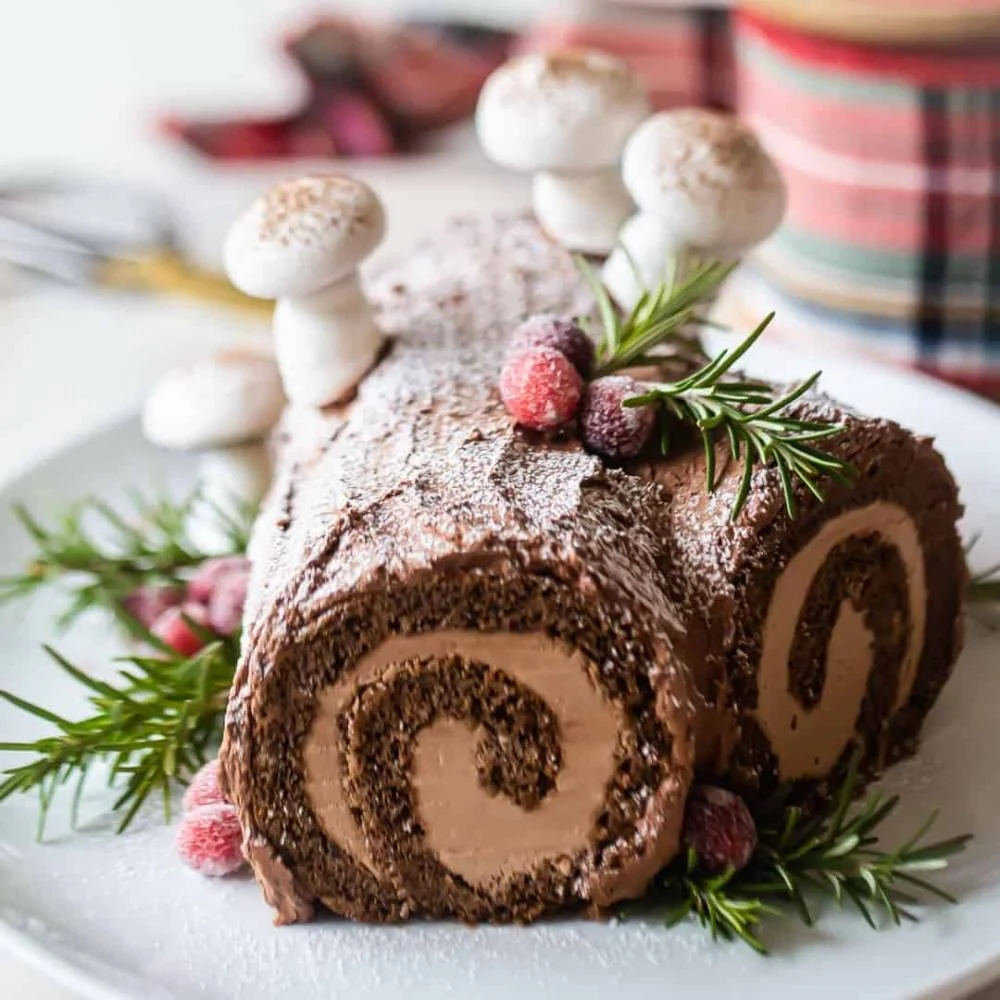 11. Traditional yule long – This chocolate yule log recipe will make your whole holiday! Chocolate cake spiraled around a fluffy chocolate filling & frosted with whipped ganache – Baking a Moment
12. Eggnog cake – This layer cake includes a rich buttered rum soaked sponge cake and nutmeg spice swiss meringue buttercream. Decorated with fresh cranberries, almond slice pine cones, and a sprinkling of fresh powder sugar "snow" this boozy cake version of Eggnog is perfect for your holiday table – B Sweet Dessert Boutique
13. White chocolate cranberry tart – Mmmm, this festive white chocolate cranberry tart is so incredibly smooth and creamy, you're gonna be in heaven. It's decadent filling is so delicious with no baking required. The perfect dessert to bring to any holiday party – Delight Fuel From Scratch
14. Gingerbread cake – A fun holiday cake this Gingerbread Cake with Cinnamon Cream Cheese Frosting and Caramel Drizzle is sure to evoke all the holiday joy! – Torn a Dough Alli
15. Chocolate salami – Such a fun dessert to make during the festive season. Loaded with chocolatey goodness, Amaretti cookies and nuts then dusted with powdered sugar for a realistic look. Super fun and so easy to make plus it's egg-free! – Inside The Rustic Kitchen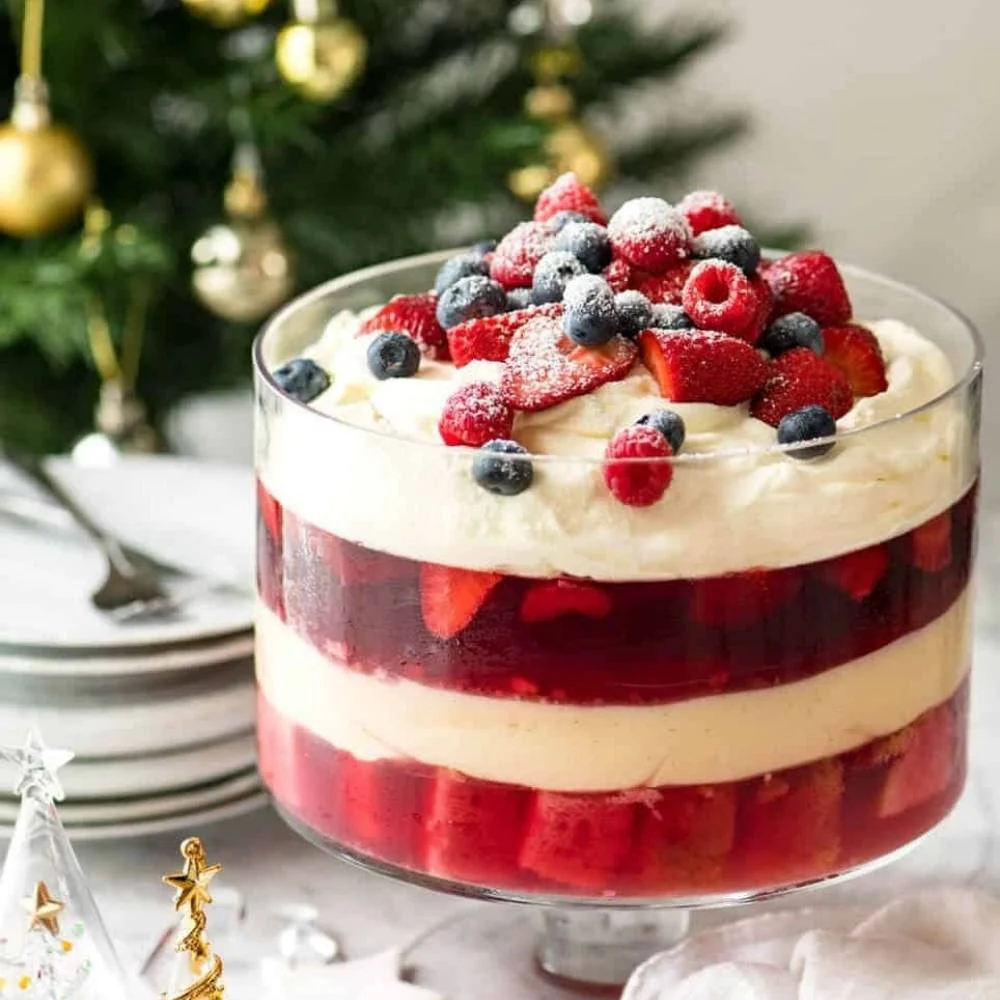 16. Christmas trifle – This trifle will look smashing on your Christmas table!!! Layers of custard and jelly, studded with cake and piled high with cream and fruit, it looks stunning in a trifle dish but otherwise just use a glass bowl! – Recipe Tin Eats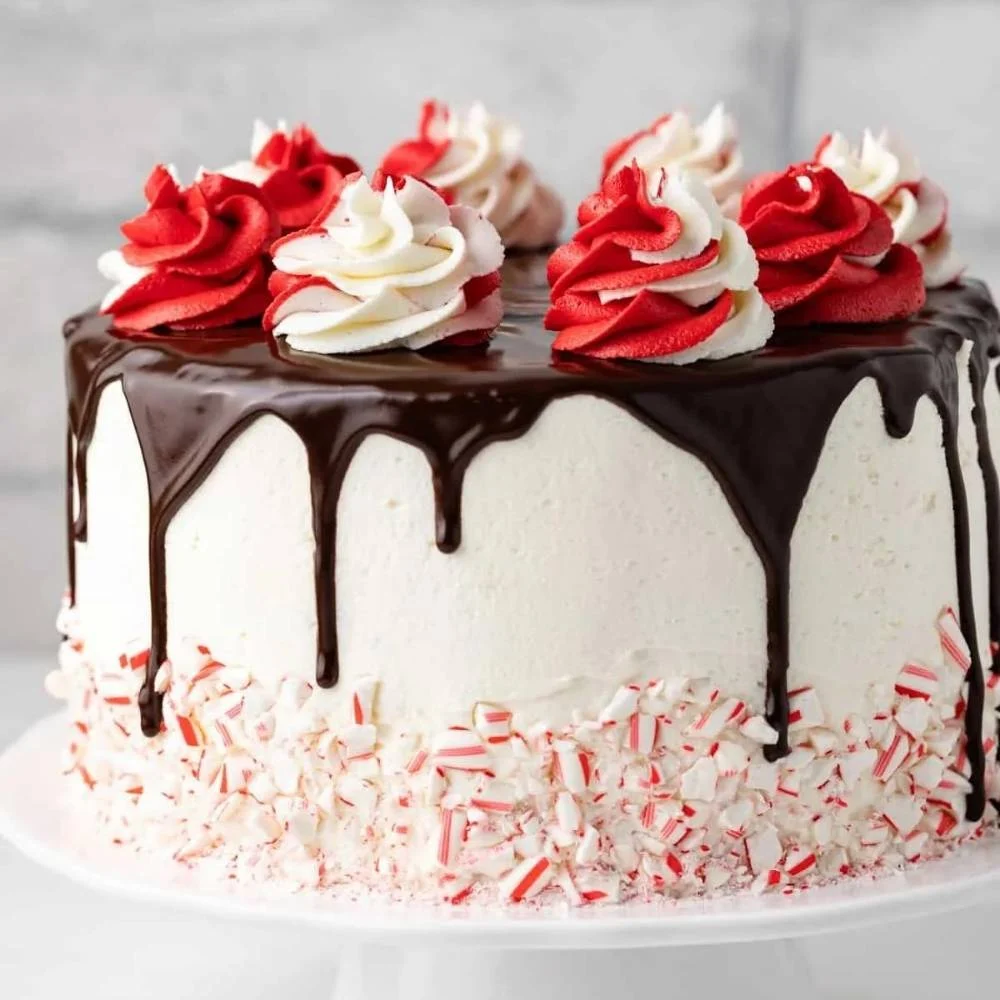 17. Peppermint fudge cake – A triple layer cake with luscious buttercream frosting and chocolate ganache, this Peppermint Fudge Cake is the ultimate Christmas dessert. It's rich, decadent, and guaranteed to steal the show! – Baked by an Introvert
18. Gingerbread & orange layer cake – Three layers of orangey rum glazed gingerbread cake coated in an orangey cream cheese buttercream! – Sugar Coated Cottage
19. Rocky road wreath – Everyone's favourite chocolatey treat gets a Christmassy makeover with the addition of amaretti biscuits, almonds and sour cherries. A great standby sweet something to have in the fridge for unexpected visitors – Sainsbury's Magazine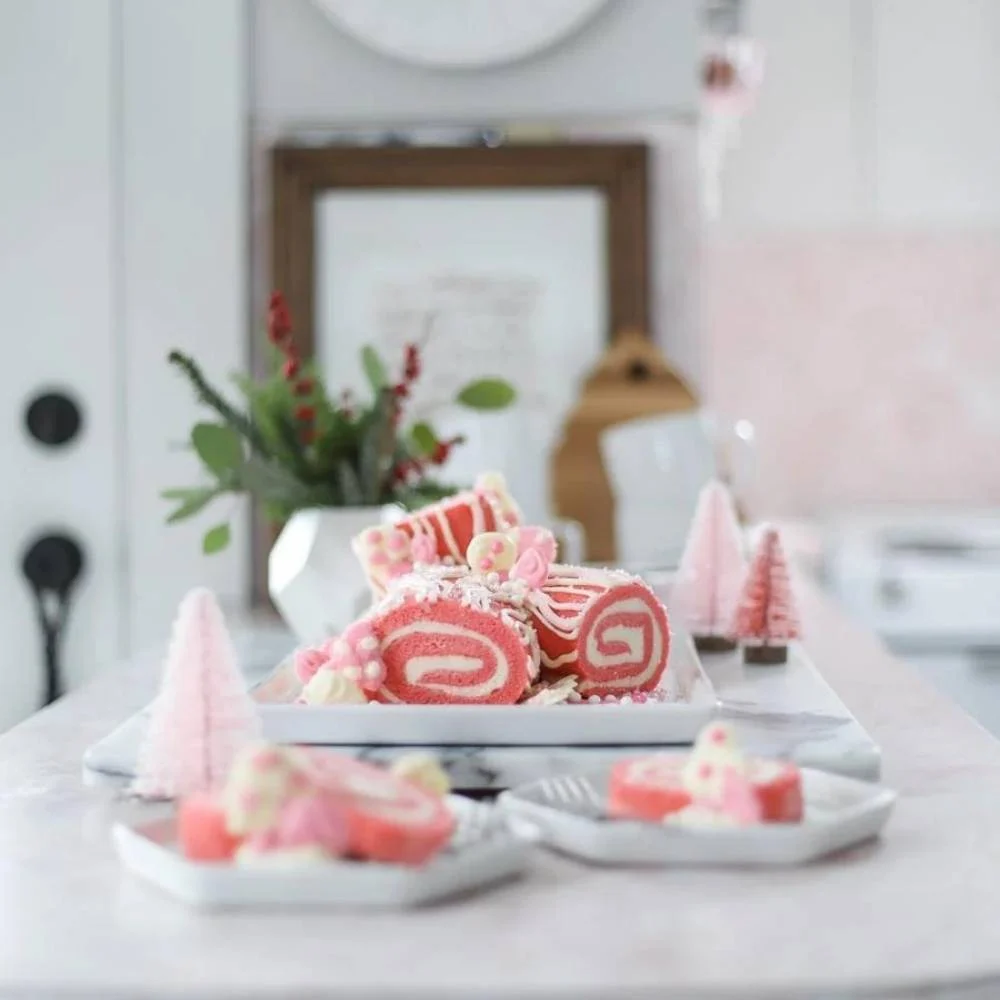 20. Pink velvet Yule log – Give a classic holiday dessert a delicious and colourful makeover. This Pink Velvet Yule Log is a unique, delicious, and beautiful dessert to celebrate the holiday season! – Inspired by Charm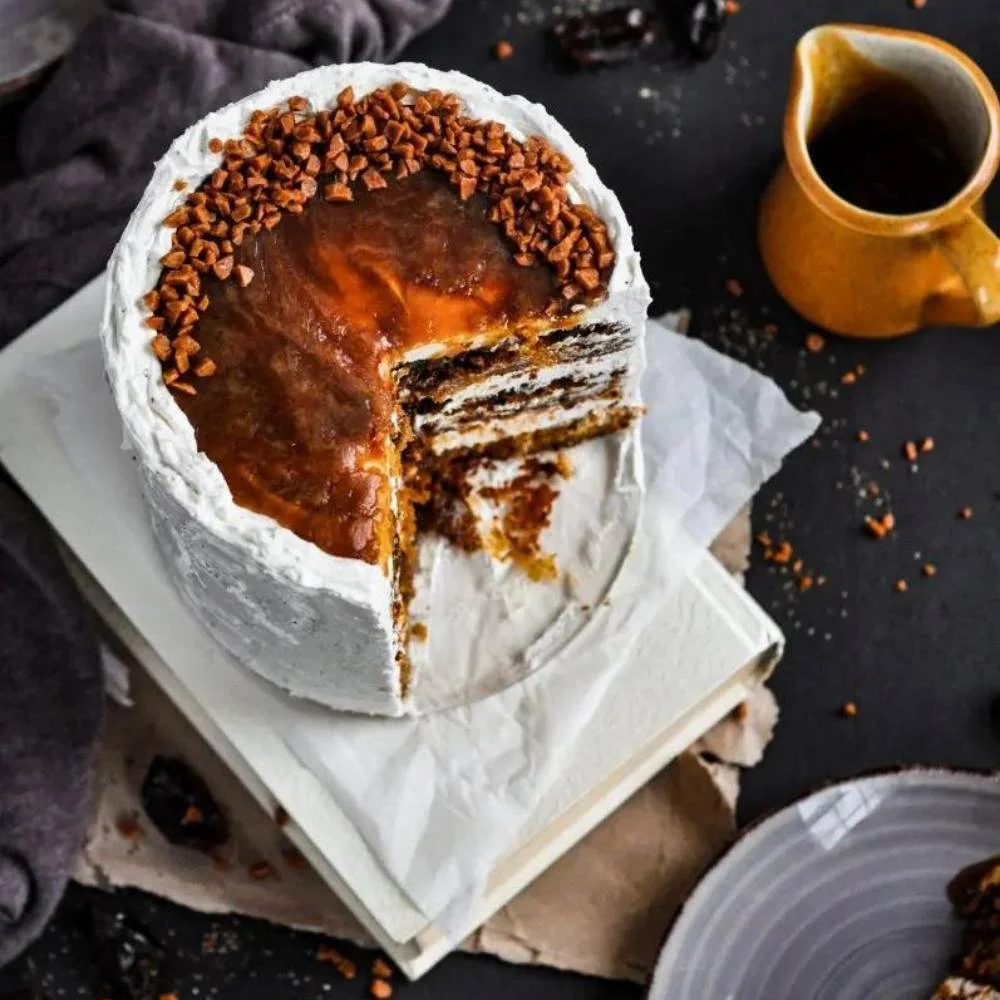 21. Sticky toffee pudding cake – Three incredibly moist date-laden cake layers drenched in toffee sauce and covered the smoothest whipped cracked black pepper buttercream – Caked by Katie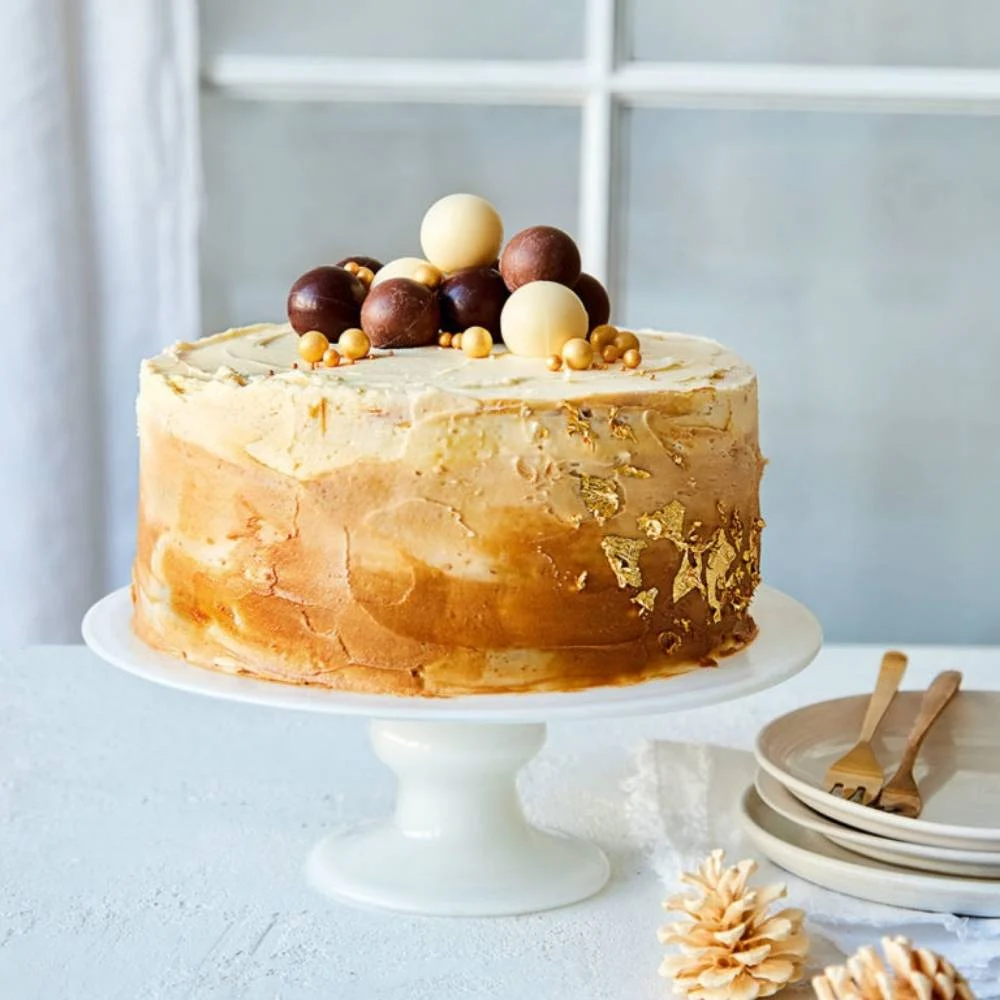 22. Chocolate Baileys cake – Meet the ultimate bake for Baileys lovers. Our chocolate Baileys cake is layered with white choc sponge, Baileys ganache and mascarpone buttercream – Delicious Magazine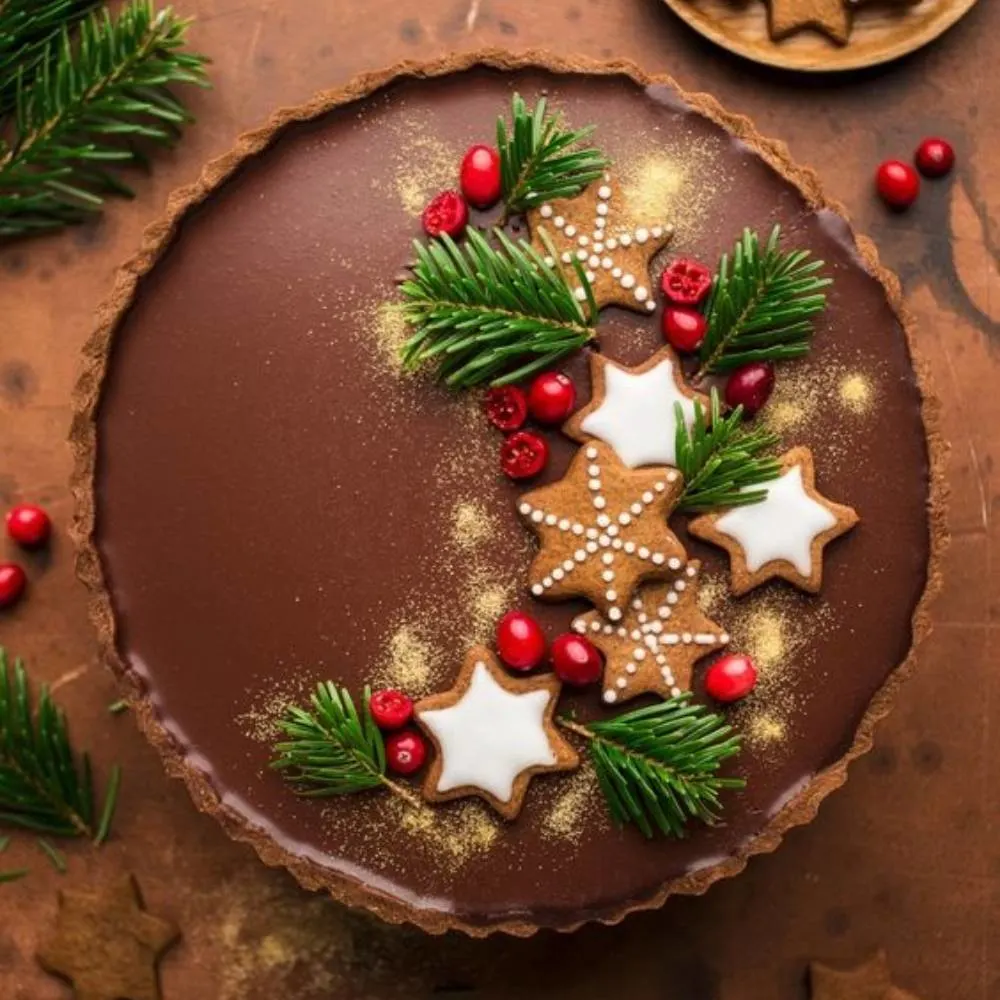 23. Gingerbread & Amaretto chocolate tart – a beautful dessert that will knock your guests' socks off. Fragrant gingerbread base contrasts beautifully with creamy chocolate and amaretto ganache – Lazy Cat Kitchen
24. Winter Bombe – It looks amazing, is crazy delicious, and is a clever assembly job. It's a sort of cross between a summer pud and an Arctic roll, and it's sure to wow – Jamie Oliver
25. Raspberry & chocolate semifreddo – A creamy and delicious semi frozen cream cake that's a perfect holiday dessert to serve for a group – Wholesome Patisserie
26. Maple carrot cake – Spiced carrot cake layers infused with maple syrup and topped with maple caramel & cream cheese frosting – Liv For Cake
27. Espresso martini trifles – Sophisticated and decadent, these get-ahead puds are a real Christmas dinner-party treat – Sainsbury's Magazine
28. Christmas pudding cheesecake – Cross a Christmas pudding with a cheesecake and what do you get? A fantastic alternative festive dessert with a crunchy ginger base and creamy filling – BBC Good Food
29. Chocolate Christmas pudding – Chocoholics will adore this decadent update on the classic steamed Christmas pudding. Cut yourself a big slice and serve warm drizzled with our delicious homemade custard and fresh berries – Woman's Weekly
30. Mocha roulade – With a rich coffee and chocolate sponge and boozy Marsala syrup, this stunning, grown-up Christmas pud will have everyone coming back for seconds – Tesco Food
Final thoughts
Christmas is a time for family, friends, and of course, lots and lots of delicious food. We hope that this roundup of epic christmas dessert recipes has given you some inspiration for what to cook up in your kitchen this holiday season. From classic favourites like gingerbread cake and yule logs to more modern takes on the traditional pudding, there's something here for everyone to enjoy. Merry Christmas!
Read more:
If you want to focus on becoming the best, happiest version of yourself subscribe to the blog or follow me on Facebook, Twitter or Pinterest.