Halloween is just around the corner, and we all know what that means! Time for spooky costumes, pumpkin carving, and of course, delicious Halloween drinks! If you're looking for some creative and fun ideas for Halloween drinks for kids, look no further.
Here's 15 amazing recipes that will have them feeling excited about Halloween in no time! So let's get started…
his post may contain affiliate links. That means that if you click on a link and purchase something I recommend, I will receive a small commission at no extra cost to you. As an Amazon Associate, I earn from qualifying purchases. This helps keep my website up and running and is very appreciated. Thank you for your support! You can read my full disclosure policy here.
In This Post
15 Spooky Halloween Drinks For Kids:
1. Vampire Blood – This vampire blood drink recipe is a spooky fun drink that will be loved by the whole family. We are taking a fun twist on cherry limeade and making it a spooky drink for the holidays. Using Sprite, grenadine, cherries, black sugar, and topping it off with cotton candy this drink will be frightening delicious to even look at! – Hip Mama's Place
2. Hocus Pocus Punch – A spooktacular Halloween punch with only three ingredients, hocus pocus punch is perfect to sip on for a fun-filled Halloween night. Whether you are hosting a Halloween Party, carving pumpkins, or just enjoying the door-to-door trick or treaters, this punch is delicious, super simple to make, and oh so festive. – Joy & Oliver
3. Black Cherry Sparklers – A Halloween drink for kids that's yummy and not too complicated can be hard to find! Non alcoholic Halloween drinks are also great for adults when served up in a fun way. With a classic taste that everyone loves, this Black Cherry Sparkler reminds me of a Shirley Temple without the sticky sweet grenadine! – Parties With A Cause
4. Creepy Shirley Temple – A sweet, fizzy mocktail that always perks up a party. Throw in a few well-placed props and this creepy version of the beloved drink will make your Halloween party a favourite! – Boulder Locavore
5. Goosebumps Punch – This Goosebumps inspired Halloween Punch is bound to be an instant hit at your Halloween party, plus it's super easy to make! – Sugar and Soul
6. Violet Vampire – An easy 2 ingredient spooky Halloween drink which is guaranteed to be an instant kids with the kids! – Kara's Party Ideas
7. Green Monster Milkshake – A faBOOlous drink that will be a hit with both kids and adults. Make them creepy or cute with candy eyeballs, gummy worms, eyeball lollipops, candy corn, and a fun sprinkle mix – Love and Confections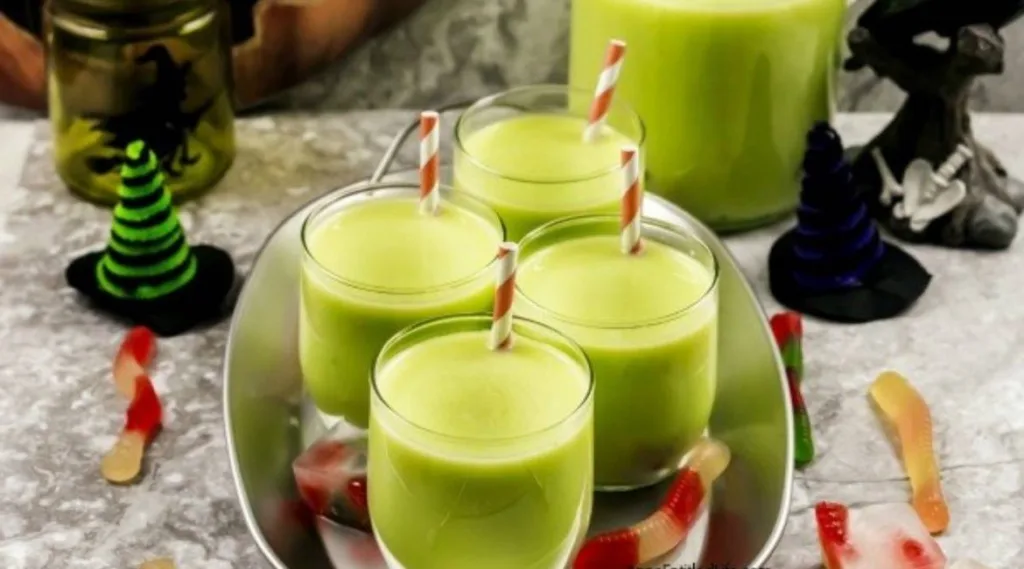 8. Swamp Water – This kid-friendly Halloween punch is murky, spooky, and delicious. If you are hosting a kid's party for Halloween this year, try this easy to make, tasty swamp water punch recipe – Ann's Entitled Life
9. Slimy Slurpy – Try this slimy slurpie for Halloween and watch your guests scream in frightful delight. With fizzing bubbles and gelatinous goo, this eerie October potion is meant to scare you. – Eat Move Make
10. Halloween Ice Cream Float – This Hocus Pocus Potion Float is a fun and festive Halloween ice cream float! A scoop of rainbow sherbet topped off with grape soda and garnished with gummy worms, it is the perfect party drink! – In Fine Taste
11. Boo-nilla Ghost Milkshake – These super cute boo-nilla milkshakes are sure to be a hit with kids and adults alike! They are so simple and so tasty – Lil' Luna
12. Glow in the Dark Skeleton Juice – Spooky glow in the dark drinks are the perfect addition to your fall festivities this year! They're easy to make and all of the little ghouls in your life will love them! – Spend With Pennies
13. Moonrise Cocktail – Dare to drink this spooky punch filled with scary snakes? Kids will love this horrifyingly good Halloween drink. – Tesco Food
14. Ghostly Freakshake – Creamy vanilla milkshake with caramel, chocolate sauce, sprinkles and topped with whipped cream. This outrageously fun freakshake is the perfect treat for Halloween! – Lemon Blossom
15. Violent Vampire – This Violent Vampire Drink from Mom on the Side is a super bright red color that is sure to freak the kids out just a tad! In other words, it is perfect for Halloween! – Mom on the Side
Final Thoughts
Whether you're looking for a festive drink to serve at your child's Halloween party or just want something fun and different to get into the spirit, we've got you covered. These 20 spooky drinks are sure to please both kids and adults alike. So gather up your ingredients and get ready to make some delicious (and slightly creepy) cocktails!
Read more:
If you want to focus on becoming the best, happiest version of yourself subscribe to the blog or follow me on Facebook, Twitter and Pinterest.